Muntari, Essien overlooked! Afriyie Acquah battles Agyemang Badu for top Ghanaian player in Italy award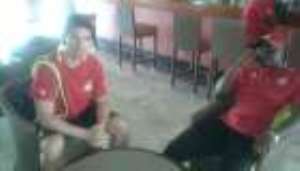 An Italian Sports Consult, Favans Consultz owned by a Ghanaian is set to honour Ghanaian players plying their trade in Italy from Serie A to C for their performances in the about to conclude 2014/15 season.
The organizers of the award have released the nominees for the award which will be held in Italy on the 15 June, 2015 as their aim is to encourage the players with the hope of spreading the award scheme in Europe.
Sampdoria midfielder, Afriyie Acquah and Emmanuel Agyemang Badu of Udinese headline next month's awards after their nimoination for player of the year but conspicuously missing are the AC Milan duo of Sulley Muntari and Michael Essien.
The voting will be done by Ghanaian journalists and selected coaches from May 15- June 15.
Full list of nominees:
SERIE A PLAYER OF THE YEAR
1. Afriyie Acquah (PARMA/SAMPDORIA)
2. Emmanuel Agyeman-Badu (UDINESE)
3. Richmond Boakye Yiadom (ATLANTA)
4. Alfred Duncan (SAMPDORIA)
SERIE B PLAYER OF THE YEAR
1. Ransford Sellasi (PESCARA)
2. Amidu Salifu (MODENA)
3. Maxwell Boadu Acosty (MODENA)
4. Masahudu Alhassan (LATINA)
SERIE C PLAYER OF THE YEAR
1. Agyei Kofi Daniel (BENEVENTO)
2. Bright Addae (ASCOLI)
3. Said Ahmed (MANTOVA)
4. Caleb Ekuban (LUMEZZANE)
NATIONAL TEAM PLAYER OF THE YEAR
1. Afriyie Acquah (PARMA/SAMPDORIA)
2. Emmanuel Agyeman Badu(UDINESE)
3. Yussif Rahman Chibsah (SASSUOLO)
4. Kwadwo Asamoah (JUVENTUS)
DISCOVERY OF THE YEAR
1. Godfred Donsah (CAGLIARI)
2. Evans Osei (JUVE STABIA/BOLOGNA)
3. Abass Alhassan (SASSUOLO)
4. Prince Duodu Besea (MODENA)
5. Nelson Atiagli (LATINA) 2014-15
SERIE A TOP SCORER 2014-15
SERIE B TOP SCORER 2014-15
SERIE C TOP SCORER 2014-15
**OVERALL TOP SCORER OF THE YEAR Follow @thedonplato