Namibia import Petrus Shitembi plays last game for Ashantigold in Wednesday tie against Hearts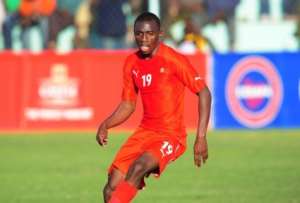 Petrus Shitembi
Namibia loanee Petrus Shitembi will play his last game for Ashantigold in Wednesday's tie against Hearts.
The 22-year-old is expected to return to South African side AmaZulu following the expiration of his six-month loan deal with the Ghanaian side.
The Namibian attacking midfielder has poured growing tribute to the club ahead of the final game at Obuasi.
"It is a privilege to play for Ashgold and in the Ghana premier league," he told reporters
"Is sad to leave, unfortunately, I have to honor my contract with my club. Coming here has shaped my career I have learnt a lot both on and off the pitch and different culture".
"I want to leave on a high note so I will give my best for the team to win against Hearts of Oak.
"I feel the GPL is one of the best leagues in Africa with it physicality and technicality."
The miners will be aiming for a win after their six point lead was cut to three following their 1-0 defeat at Wa All Stars.