Ghana striker Asamoah Gyan: Al Ain switch the smartest move I have made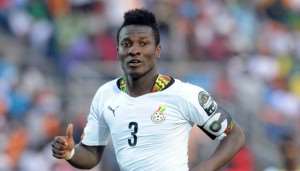 Asamoah Gyan
Al Ain's Ghanaian star Asamoah Gyan has described swapping the English Premier League for the UAE as the wisest move he has ever made.
The prolific striker raised eyebrows when he left Sunderland for Al Ain in 2011, but he and the Boss, who were confirmed as this season's Arabian Gulf League (AGL) champions last week, have now won three titles in four years.
"I think it has been the best decision I have taken in my career. I feel great to win three titles in four years — it's a great achievement for me personally and for the club," Gyan said after helping his side to a goalless draw against fourth-placed Al Wahda on Monday night.
"There was a lot of criticism for leaving England, but I think international level and club level have been better for me. Everything has been going well for me in terms of scoring, which is my job. I would say, from where I stand now, it is the wisest move I have made."
After back-to-back title triumphs under Cosmin Olaroiu, Al Ain struggled last season following the Romanian's departure to Al Ahli, with replacement coaches Jorge Fossati and then Quique Sanchez Flores both sacked. That opened the door for Croatian Zlatko Dalic in March 2014 and he oversaw an immediate turnaround, with the club winning the President's Cup.
And now Dalic, 48, has brought the AGL title back to the Garden City with plenty to spare.
"This season has been very, very difficult for the coach to choose the kind of players. Especially with me and Omar [Abdul Rahman] being in and out of the side with injuries," Gyan said.
"A lot of players who were brought in to fill our places didn't do the job and so I would say he has done an incredible job this season.
"I couldn't pinpoint one thing [that has changed for the club this season]. I think everything was part of football — we won two years in a row and then last year we didn't play that well.
"Yes, the third season was bad, but sometimes these things happen in football and nobody is to be blamed. Now see this year, we came back strongly and everyone saw that. We have won the league convincingly and kudos to the players and the support staff."
Dalic brought in former Chelsea player Miroslav Stoch on loan from Fenerbahce along with Korean Lee Myung-joo and Jires Kembo Ekoko, his choices proving to be a masterstroke. The trio stepped up their game in Gyan and Abdul Rahman's absence and scored 25 goals between them.
"I think we have a lot of players who have stood up — Esmail Ahmad, Mohammad Ahmad and so on. There are a lot of players and it is good for the team," added Gyan, who scored 13 goals in 15 games this season, despite many injuries and being away helping Ghana finish runners-up in the Africa Cup of Nations in January and February.
"Kembo, for example, stood up to my place and was excellent when I was injured. I would say now we have an all-round team and all can fit into any role."
Gyan is also confident Al Ain will be able to defend their President's Cup title when that competition returns next month.
"The President's Cup is the only competition left in the local scene right now and we are focused on it. With the kind of quality that we have in the team, I think we have to win it and we believe we can. We will also want to keep up the good work in the Asian Champions League now that we have qualified for the next stage," said the 29-year-old.