Marseille ultra fans who attacked Ayew brothers Jordan and Andre in 2011 handed jail terms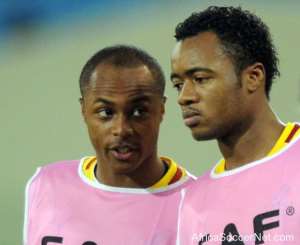 Andre and Jordan Ayew
Prison sentences have been handed to five Marseille ultra fans who launched a series of terrifying attacks against Jordan and Andre Ayew in 2011.
Family friends of Ayews were attacked in their home in the incident which took place in May four years ago.
Four relatives of the Ayew brothers-including the pregnant wife of Andre and senior brother Rahim-were threatened at a villa in Roquevaire.
The fans were all in their teens with the heaviest sentence, of 15 years, was handed down to a 17-year-old supporter.
Of the four others, one was sentenced to 11 years behind bars, another to 13 years while two were jailed for 12 years each.
In all, the five accused faced 13 charges which also included robberies at cafes and supermarkets.