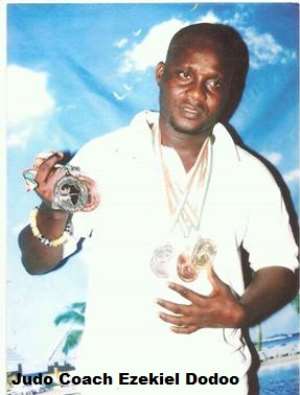 National Judo coach of Ghana Ezekiel Dodoo has blasted the sports authorities of Ghana for putting in more money into football and leaving the other sports disciplines to suffer.
Speaking to Yours Truly at the Accra Sports Stadium, the accomplished judoka said everybody has a talent and it is the country that must provide the sports facilities and equipment for the nationals to use.
He noted that the rlg Hathiramani Sports Hall is even now too small to cater for boxers, judokas, table tennis players and badminton players.
According to Dodoo, Ghanaian sports men and women do not deserve the treatment being meted out to them, because when they are training, they go all out to sacrifice to win laurels, but they are not respected.
He asked why the sports hall should be the only place at the Accra Sports Stadium, when there are places that could be developed into other sports facilities.
The judo trainer asked how can the tennis courts be used for boxing when the Asamoah Boxing Promotion – Baby Jet promoted a bout at the center Court.
"We need to sit up as a sports nation, and the President must ensure that the right people are put at the right places in sports. We need very experienced coaches, administrators and managers to train our talented sports men and women" he said.
According to Dodoo, he was very sure the whole of Ghana was happy when a judoka won Ghana's first medal at the recent Commonwealth Games in Scotland. He praised Sidney Abugri for his achievement at the Commonwealth Games and hoped that more medals will come to Ghana through judo.
He appealed to the President HE John Mahama and the new Sports Minister to quickly find solutions to the less financed sports, because any time the Black Stars are playing, the players of the other sporting disciplines never wish them well and that is one of the reasons why the Black Stars can go to the medal zone and miss the diadem.
" If we are treated equally, for sure we shall wish all the teams well, but if it continue like this, it will remain like this" he stressed.
Dodoo who comes from a family that has produced all the best judokas in Ghana said not every child lives football, as there are talents in kickboxing, boxing, judo, taekwondo, karate do, chess, badminton, table tennis, volleyball, cricket, hockey, basketball and many others.
He called on corporate Ghana to aid the government in providing the facilities and a travel expense as sports is an international activity.
By Sanmmy Heywood Okine