EXCLUSIVE: Ghana defender Awal Mohammed unveiled as new Al Shabab signing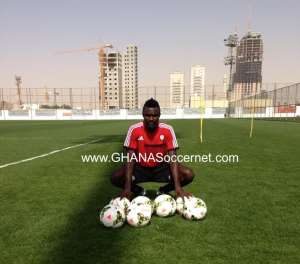 Ghana defender Awal Mohammed has been unveiled as a new signing for Saudi Arabian club Al Shabab, GHANAsoccernet.com can exclusively reveal.
The 26-year-old has signed a contract with the Riyadh-based club having passed a routine medical.
Awal joins Al Shabab from South African club Maritzburg United where he has played his professional football since 2012.
Awal Mohammed is a new signing for Al Shabab
Details of the Ghana international's deal remains concealed but it is believed Maritzburg United will receive a hefty transfer fee for the defender who is also thought to be on a juicy salary.
Awal was part of the Ghana squad that finished second at the 2015 Africa Cup of Nations where he played in the opening Black Stars defeat to Senegal.
The former Feyenoord Academy youngster played for Ghanaian giants Asante Kotoko before moving to South Africa three years ago.
Awal Mohammed is a new signing for Al Shabab
His arrival swells the number of high profile Ghanaian players in Asia with former Sunderland hitman Asamoah Gyan already with UAE side Al Ain,