CHRONICLES OF THE BABY JET; GHANA'S LOVE - HATE RELATIONSHIP WITH ASAMOAH GYAN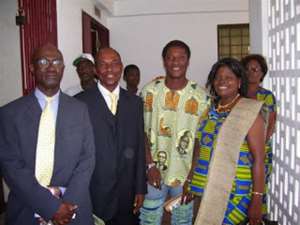 GYAN ON A VISIT WITH COACH J.E SARPONG TO HIS ALMA MATER
So as a fresher in my Alma mater Wesley Grammar, one of the foremost 'filla' I was let in on was that of a certain rivalry. A rivalry that might not match up to that of Al Ahly and Zamalek Football clubs of Egypt which is tagged as "The world's most violent derby", nor the one that exists between my fiancée and my ex. But one thing was for sure, it was a rivalry that started way before my dad had made his first move on my mum. From the way this rivalry was spoken of, I craved to be a witness to it.
Soon, it was time for inter-schools sports competition and finally I will get a taste of the foretold rivalry. Well, if you care to know, it is a rivalry between my Alma mater, Wesley Grammar and Accra Academy. A WessG - Accra Aca meet in any sporting event is dreaded, arguably the biggest match in the zonal competition.
Finally came the day, It was somewhere in 2002 at the El-walk sports stadium, we were to play the 'Academicians' in the opener of the zonal soccer games. Amidst 'JAMA' at its highest peak, a fight nearly ensued between the two schools as students made their way into the El-walk stadium. The rivalry I was told of was real, the game kicked off and right from the referees whistle blow, players from both teams played as wounded lions at each other's neck. It was a sight to behold.
A tall and lanky looking player seemed to have been the crowd puller; with every touch of the ball he drew applause and shouts from the fans. It's been 12 years since then, but I still have fond memories of a fantastic header from that tall lanky player for the 'Bl3OO' boys which graced the cross bar in the dying embers of the game. That header could have been an equalizer for them after we had gone up by a goal earlier in the second half. We won the game by that lone goal, after the match, the tall lanky player spent the next few minutes shedding tears on the pitch until he was whisked away by then coach of Accra Great Olympics and sports master of Accra Academy, Coach J.E Sarpong. That was when I decided to inquire who he was, to my utmost surprise; i was told he is the younger brother of then Black stars top striker, Baffour Gyan. That was the first time I came across the man who 11years on will become captain of the Black Stars.
Even though Gyan had graduated from school by 2003, he still showed up at the inter-schools sports competition not as a player this time, but in the capacity of what David Beckham and Stephen Appiah are to the England and Ghana teams currently. And once again my 'EMASHI' boys handed his 'BL3OO' boys a 2-1 defeat, which was two defeats in a row. A year later, as a player in the schools handball team myself; I experienced the rivalry at first hand as we played them in a quarter-final match at the inter-schools handball competition. Recently I had a hearty chat with Coach J.E Sarpong as we relived some of those nostalgic moments.
The next time I will hear of Gyan, he had joined the 'Scientific Soccer Lads', Liberty Professionals. A short spell in which he struck 10goals in just 16 appearances: that was how prolific Gyan was when his professional career took off. Before the season would come to a close, he made a move to Serie A Club, Udinese. A club which was fast becoming the home of Ghanaian players, with the likes of Mohammed Gargo, captain extraordinaire Stephen Appiah and 'Bad Boy' Sulley Muntari having already pitched camp there.
GYAN'S EARLY DAYS WITH THE BLACK STARS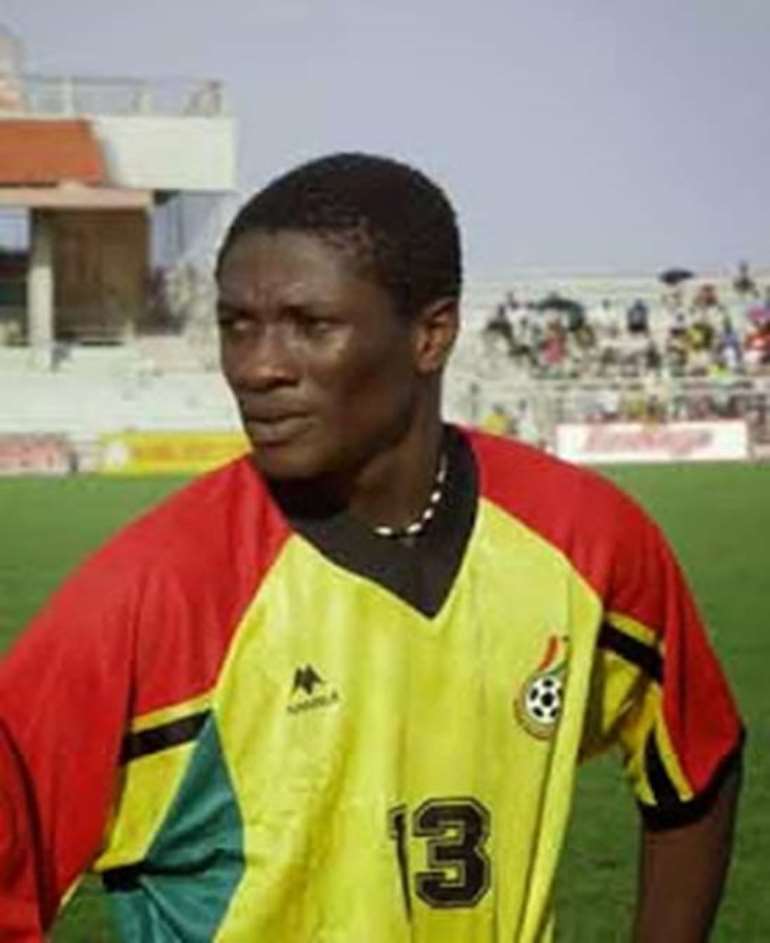 Calm to make his way into the first team of Udinese, he dropped a step lower to Italy's Serie B and landed a loan spell at Modena where he nurtured his striking abilities tremendously. In 53 games, he made do with 15goals. Gyan would soon make his debut for the Black Stars with just a few days before his 18th birthday. He was called up by caretaker coach Ralf Zumdick at the start of the 2006 World Cup qualifiers, making his entrance as a substitute in the first leg of the preliminary round clash against Somalia; he scored a fairy-tale debut goal. He went on to score 3 more goals in the qualifiers and secured Ghana its first berth at a FIFA World Cup.
In a team of Stephen Appiah, Sulley Muntari, Michael Essien, Otto Addo, Matthew Amoah and the likes, a young Asamoah Gyan defied odds a s he continued his fairy-tale with the Nation. He scored what will be Ghana's first ever World Cup goal against the Czechs, however, what made the goal such a memorable one was the timing, the execution, and his celebration afterwards. That goal ended up as the fastest goal scored at the 2006 world cup, and he did that against the then Worlds No1 goalkeeper Peter Cech after just 68secs into the game, he later on missed a penalty in the match.

CELEBRATION AFTER HIS GOAL AGAINST THE CZECHS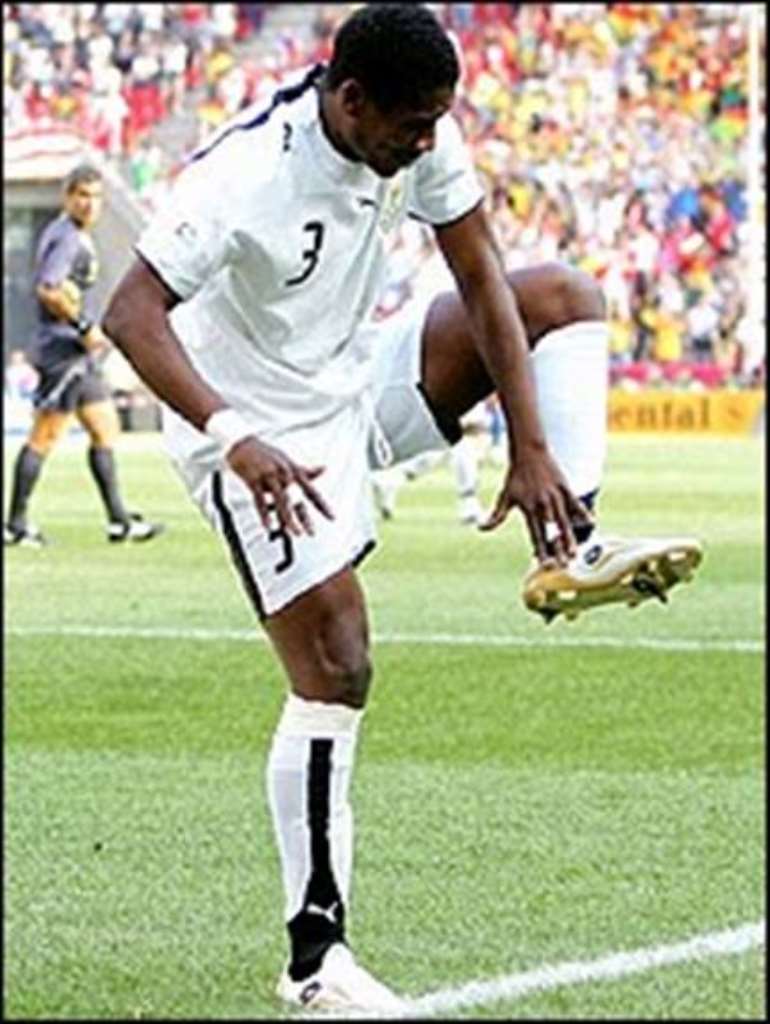 On the back of his performance at the 2006 world cup, Udinese had no choice but to bring him back to their fold after two seasons in the lower tier with Modena. He continued with his fine form and in 39games tallied 11goals.With such performances, he had grown into that kind of player a coach couldn't over look for national call ups. Ghana was to host the nation's cup in 2008, and after FA President Kwesi Nyantakyi promised the whole nation that, there was no way we would host and not win the tournament, hopes was high. After a hard fought 2-1win against Guinea in the tournaments opener, the Black Stars unconvincingly beat Namibia courtesy a Junior Agogo tap-in. The look on my face in the stands after the game even though we won was that of disappointment, and that was same with many Ghanaians. It was a match we could have won by an avalanche of goals had Gyan buried the chances that came his way.
Gyan faced the wrath of many Ghanaian soccer loving fans. He was booed during the game, and in the coming days, some local radio stations took a swipe at his poor performance whilst others attacked his personality. In solidarity, brother, Baffour Gyan joined Asamoah as they packed bag and baggage and threatened to walk out of camp. The love relationship Gyan was enjoying from Ghanaians had gone sour.
It took the efforts of some players, team officials and Ex-President John Agyekum Kuffour for the Gyan's to rescind their decision. Personally I was surprised at how the nation turned its back on such a young but promising player when the going got tough, he had already netted 15times in 22 appearances for Ghana before that incident and one would have thought he rather merited commendation. But that is how passionate fans can get about the game of football; don't toy with their emotions on the pitch!
Gyan was signed by French Ligue 1 Club Stade Rennais from Udinese after the 2008 AFCON. He played 48 times for the Ligue 1 club, scoring 14 goals. He maintained his fine form for both club and country and again aided Ghana to qualify to AFCON 2010 in Angola. With the squad ravaged by injuries, Ghana coach Milovan Rajevac assembled a team of younger but 'hungry for success' players. With most of the big names not making it to the tournament, Ghanaians didn't expect much from the team. Nevertheless, Gyan catapulted the team into the finals which we lost by an agonizing lone goal to Hasan Shehata's Egyptian team. Gyan scored 3 out of the 4 Ghana goals during the tournament. The nations love for the 'Baby Jet' was rekindled once more, the pain from the 2008 AFCON tournament paved way for this new love.
THE VOLLEY AGAINST USA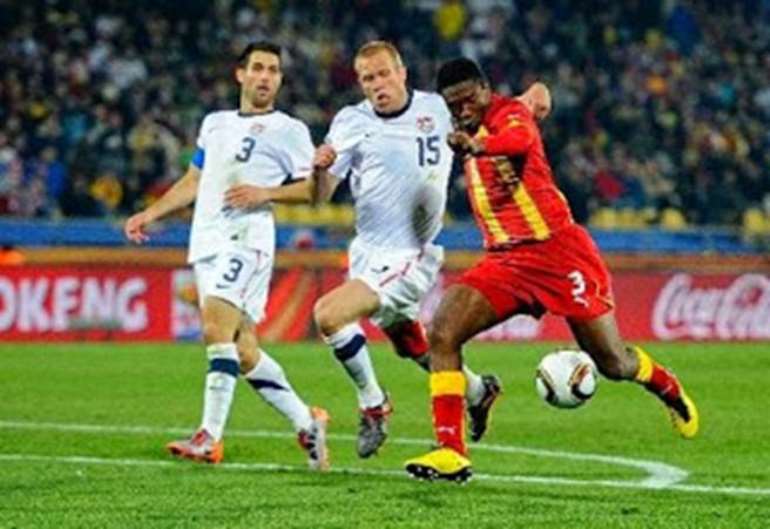 With the nation throwing its weight behind him, he was gingered for the 2010 World Cup held on African soil for the first time. In the Black Stars first game of the tournament against Serbia, he grabbed a late winner from the spot kick before hitting the goal post in the dying embers of the game. He proceeded on with another fine performance in the 2nd game against the 'Socceroos' of Australia as he scored again from the spot kick. His best in the tournament was yet to come though, in the 2nd round of matches against the United States, with both teams on level pegging, the match went into extra time and Gyan once again became the nations' saviour with a cracker of a goal, a goal many argue is one of his best. The whole continent erupted into jubilation as Ghana became only the 3rd African team in history to make it to the quarter finals of the world cup.
THE PENALTY AGAINST SUAREZ'S URUGUAY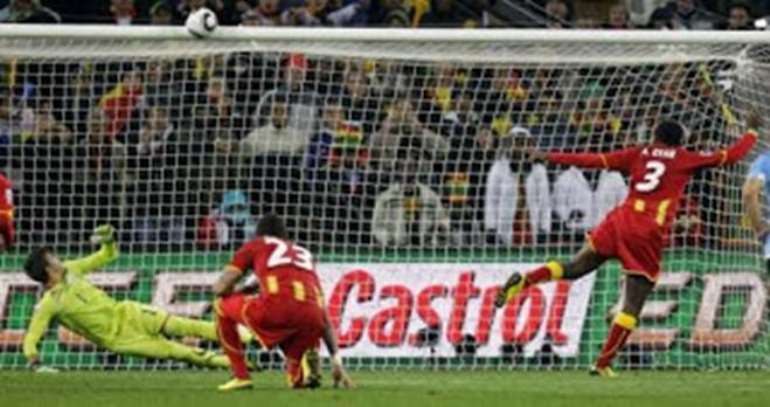 The continents hopes had been raised so high that, most people had already began making permutations of which team the Black Stars will face in the semis. So it happened that with the game heading into a shoot-out, Luis Suarez handled the ball on the goal-line but Gyan missed the resulting penalty, his kick graced the crossbar and the game went into the shootout. He however converted his penalty in the shot-out but it was a little too late to have secured Africa a place in the semis for the first time. Hearts had been broken and the rekindled love went sour once more, from the print through electronic media all the way to homes of Ghanaians, Gyan was criticized and all the blame of Ghana's failure to qualify into the semis directed at him.
OBAA YAA REQUESTING GYAN TO MARRY HER

THE LOVE GOT DEEPER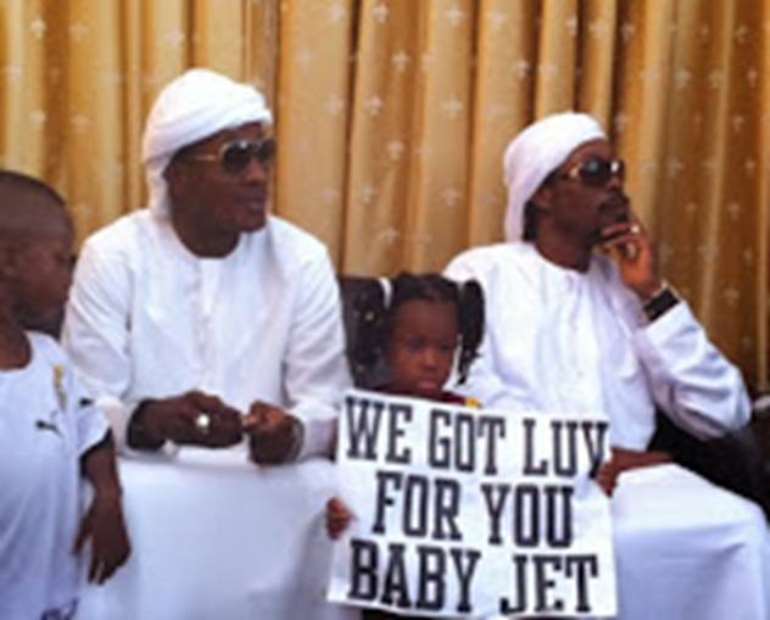 He seemed unperturbed by that misfortune and right after the World Cup, he signed for Premier league side Sunderland on a four-year deal for a record £13 million. He scored on his Sunderland debut against Wigan Atheletic after coming on as a substitute. By now he had launched his music career to the surprise of many, his 'African Girls' song which featured longtime pal, Castro, was making waves across the world coupled with his Azonto goal dance celebrations. The love relationship from Ghanaians resurfaced again. A Ghanaian lady, Obaa Yaa on TV requested Asamoah Gyan to marry her or else she would commit suicide. Obaa Yaa said, she lost countless nights of sleep thinking of the Sunderland striker. That was how deep the nations love for him had grown.
GYAN CELEBRATES A GOAL AT SUNDERLAND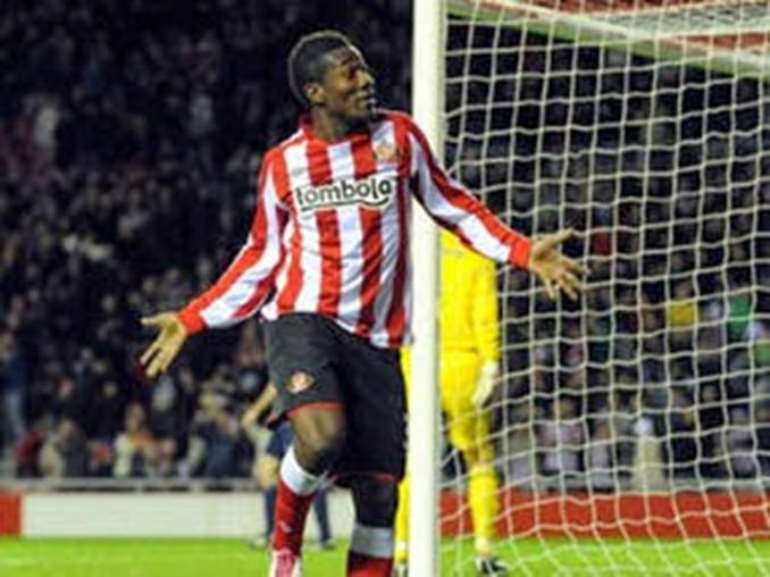 With his growing popularity in the EPL, Ghana secured a friendly with the 'Three Lions' of England, and with just a minute to end the game, Ghana was still down by a goal. Gyan shouldered responsibility, cutting the English defence into shreds with Lescot been the worse culprit, he blasted the ball with his less fancied left foot past England Goalkeeper Hart and into the net. A sublime finish it was. Gyan will go on to reward the 'Black Cats' (Sunderland) for their faith in him with 10goals in 34 matches before making that shocker of a move to Al Ain Fc in the UAE. With a salary four times his previous at Sunderland, the deal was too tasty to reject.
ZAMBIA GOALKEEPER MWEENE SAVES GYAN'S KICK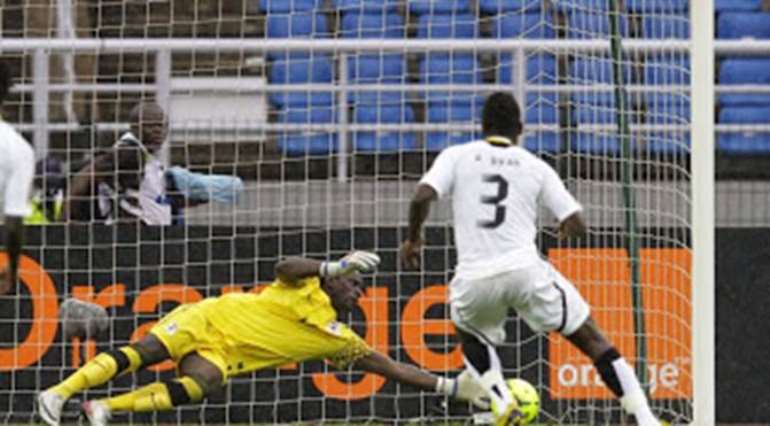 With the move to the less fancied league, many believed his form will dip and possibly even end his call ups into the national team. He answered the skeptics with 22 league goals for Al Ain in his 1st season and became top scorer in the UAE. His fine form for country continued into AFCON 2012. However, he missed a crucial penalty kick in the semi-final against Zambia. Ghana went on to lose 1–0 to the Zambians who eventually won the tournament. For missing a 2ndcrucial penalty, Ghanaians swore heaven and earth never to forgive him and after some bitter criticisms, the heat was too much on him, he took an indefinite break from international duty and also vowed never to take spot kicks for the country anymore. A vow he has stuck to till now. He announced his return to international duty after a few months.
THE RECORD BREAKING GOAL AGAINST PORTUGAL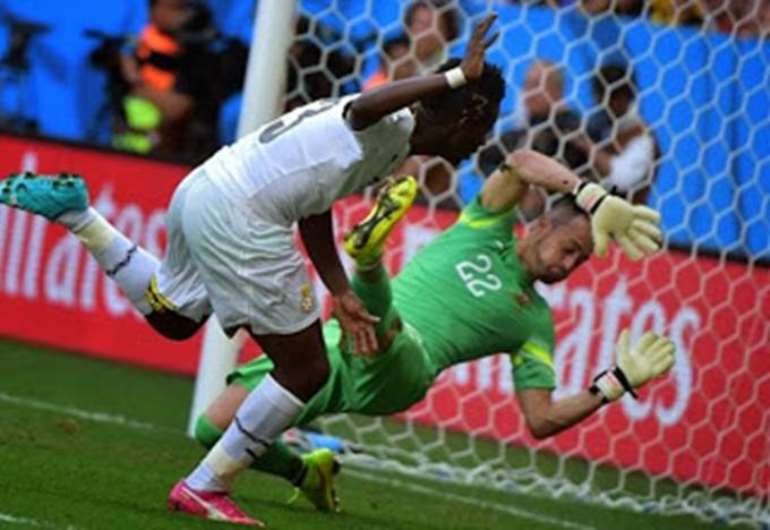 On his return, he kept doing what he knows best, banging in the goals for both club and country. He broke existing records and set new ones. In the world cup in Brazil, he equalled Roger Milla's 5 world cup goals record with his goal against the eventual world cup winners Germany. That goal also ensured that, he became Ghana's all-time scorer with 41goals breaking Kwasi Owusu's long held record of 40goals. In Ghana's last group match against Portugal, he scored to become Africa's highest goal scorer in the FIFA World Cup. The events leading to Ghana's exit from the 2014 World Cup were bizarre. Ranging from row over appearance fees, rejection of team hotel, players rebellion against management, to the infamous Sulley-Mosses Parker and KPB-Akwasi Appiah incidents, not to forget what will soon end up as a Hollywood movie, the airlifting of the $3mill ion and John Boye's money kissing episode. It was a shameful showing at the world cup and Ghanaians as usual were 'up in arms' against the team.
GYAN AND MISSING PAL, CASTRO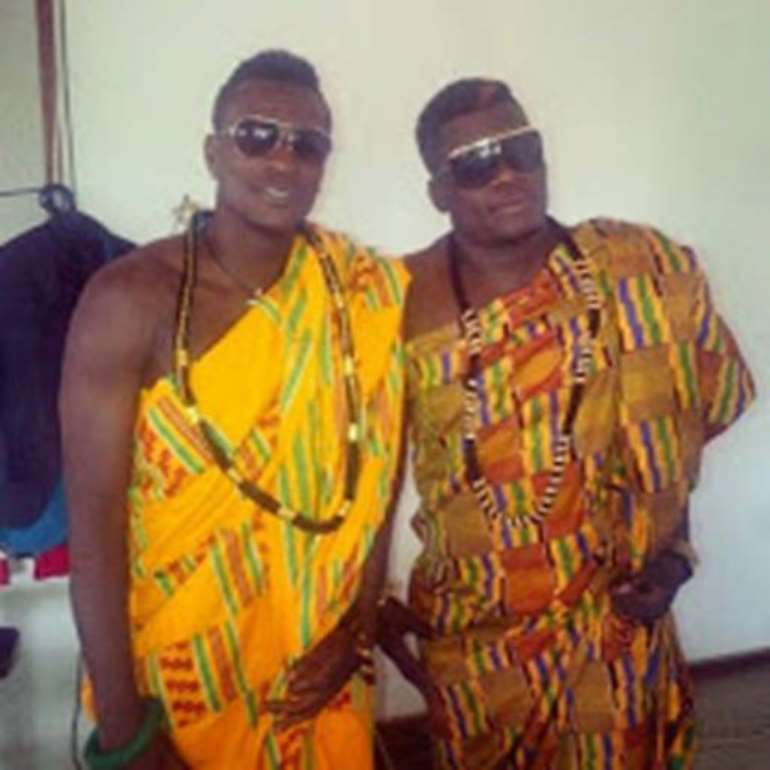 On his return from Brazil, Gyan and Castro along with some friends reportedly went to Aqua Safari, a beach resort in Ada for recreation. Castro and a female friend have since gone missing during a Jet Ski ride at the resort. The aftermath of the unfortunate event hasn't been properly managed. With Gyan's long silence until that needless press conference after his brothers assault on a journalist whose only wrong was that, he asked a question many Ghanaians were already asking in their homes. In the heat of all these, the 'Baby Jet' has kept his composure on the pitch and still delivering great performances.
THE PARROT SIGN - "YOU TALK TOO MUCH'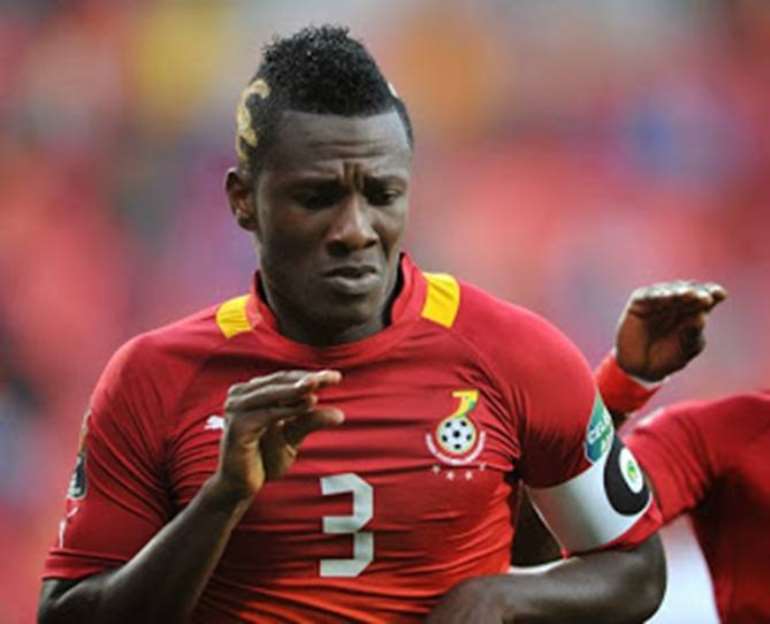 At a point in his career, he lost his mother. Even that couldn't tame his killer instincts in front of goal. He kept his head up and soldiered on, in likewise manner, he has done same with the Brazil 2014 and Castro incidents. And when he scored against the Togolese recently in an AFCON 2015 qualifier, Gary Al-Smith reported that, Gyan made the parrot gesture, sending a clear message to his many detractors: "You talk too much". I'm getting to a point where am being tempted into believing that, his many detractors truly talk too much, because, whenever the tides had turned against him, he had re-written the scripts entirely.
Currently his international goal scoring record is one to envy by many great footballers, it stands at 45goals in 86caps. England's all-time top scorer is Sir Bobby Charlton with 49 goals, Van Persie is top scorer for Holland with 47 goals, Thiery Henry is top scorer for France with 51 goals and Cristiano Ronaldo has 50 goals as Portugal's top scorer. So with 45 goals, Gyan is not far off from such great players coupled with the fact that, he still has a few more years of football left in him. It's for no reason at all that he has been irreplaceable in the black stars for 10 solid years. Many names came, but withered along the journey. Notable among them are, Junior Agogo, Razak Pimpong, Prince Tagoe, Joetex Frimpong, Dominic Adiyiah, Eric Bekoe, Mahatma Otoo, Derek Asamoah, and Emmanuel Baffour amongst many others. Yes! That is how difficult it has been finding a backup or perhaps a pair for Aamoah Gyan.

WE LIVE TO SEE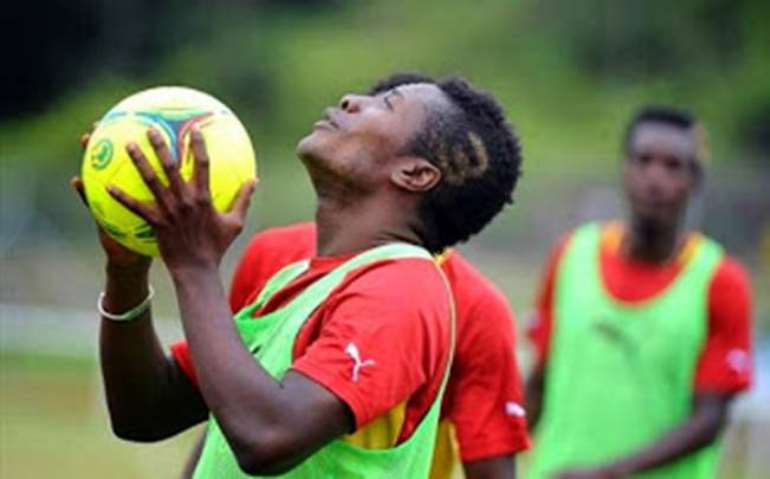 As the Black Stars head into the final lap of the AFCON 2015 qualifiers, Gyan has been ruled out with an injury. From the look of all things, the panic button has already been pressed. Even with the presence of Jordan Ayew and Abdul Majeed Waris, caretaker coach, Maxwell Konadu doesn't seem convinced the pair can deliver in Gyan's absence. Konadu has thus given Emmanuel Osei-Banahene a debut call-up in his squad for the double header against Togo and Uganda. My fervent hope and prayer is that, this old wise saying, "the length of a toad is only seen after its death", doesn't come haunting at us by the end of the qualifiers. And in this case, Asamoah 'Baby Jet' Gyan may be that frog.
Writer: Nana Yaw Sam
Blog: nanayawsamgh.blogspot.com
Email: [email protected]