Black Meteors Were Not Familiar Playing Under Flood Light--Malik Jabir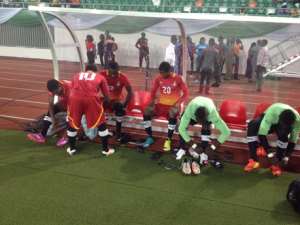 Ghana Olympic team lost 1:0l to Nigeria on Friday night, a match which was played to mark the commission of their newly built Akwa Ibom stadium in Uyo state and head coach Malik Jabir has attributed his team's poor performance to the players not being familiar with playing under flood light.
According to the Bechem United technical director, his players have not been playing under floodlight which he believes indubitably hugely affected the performance of his team hence their one nil defeat to Nigeria.
''My boys were not comfortable on the turf since they have not being playing under floodlight'' He fumed speaking to Metro FM on Sunday.
Coach Malik Jabir believes if the players had played under floodlight severally it would have been better for them because they wouldn't have fumbled on the pitch after seeing the beautiful floodlight.
''How many players among the team have played under floodlight before personally it think it hugely affected the team's performance in general''. He added
Ghana is aiming to secure qualification to the Olympic tournament slated to be staged at Rio in Portugal when the qualifiers kick start later next year.
The team returned home on Saturday and head coach Jabir has asked his boys to go on break upon which they will be called for future camping to begin preparations for the qualifier matches.