James Reimer stars for Toronto Maple Leafs, Boston Bruins win again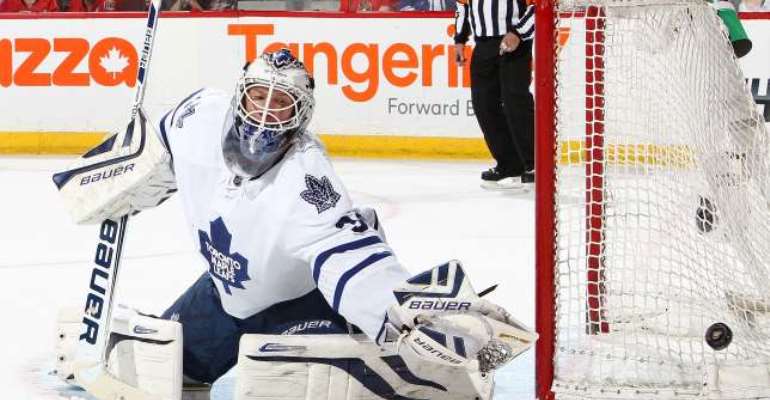 Reimer was at his brilliant best, stopping 45 shots as the Maple Leafs edged the Blackhawks for their third consecutive victory.
The Maple Leafs trailed 2-1 early in the second period after Brad Richards and Brent Seabrook scored goals to cancel out Nazem Kadri's opener.
James van Riemsdyk levelled the score five minutes into the second period before Peter Holland put the Maple Leafs ahead with 2:21 minutes on the clock in the third stanza.
And that goal proved to be enough as Reimer stood tall to thwart the Blackhawks, making 26 saves in the third period.
"I thought through two periods we played pretty good, but obviously in back-to-back games you run out of steam a little bit in the third, and they definitely stepped up their game a bit," Reimer said.
"It was one of those games where we had to grind it out and we were fortunate to get two points."
The Boston Bruins claimed back-to-back wins by accounting for the Ottawa Senators 4-2.
Matt Fraser led the way for the Bruins, scoring twice in the second period, breaking the tie to lift the Boston franchise to victory.
In other results, two unanswered goals in the third period saw the New Jersey Devils beat the Columbus Blue Jackets 3-2.
Goalie Marc-Andre Fleury had his third shutout in four games as the Pittsburgh Penguins blanked the Buffalo Sabres for a 5-0 win.
The Winnipeg Jets outscored the New York Rangers 2-1 in a shoot-out to emerge 1-0 victors.
Jason Garrison's third-period goal helped the Tampa Bay Lightning to a hard-fought 4-3 triumph over the Washington Capitals.
The Philadelphia Flyers were no match for the Florida Panthers after losing 2-1, while the Carolina Hurricanes shutout the Arizona Coyotes 3-0 for their first win of the season.
Mikael Granlund, Matt Dumba, Thomas Vanek and Nino Niederreiter were all on the board as the Minnesota Wild downed the Dallas Stars 4-1.
The St Louis Blues accounted for the Colorado Avalanche 3-2 and the Vancouver Canucks beat the Edmonton Oilers by the same scoreline.
Meanwhile, the San Jose Sharks saw off the New York Islanders 3-1.