Tom Watson scapegoat of Ryder Cup loss, says Bernard Gallacher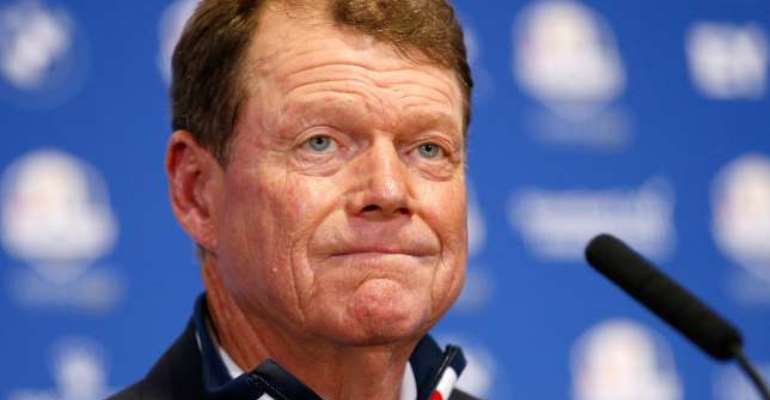 Watson, 65, oversaw his second Cup as a non-playing captain in September, as the US fell to defeat 16.5 to 11.5 - and remained with just two wins in the illustrious team tournament since Watson steered them to victory in 1993 at The Belfry.
After 21 years out of the role, and with a significant age difference to his playing cohort, Watson did not have the right rapport with his 12 players, former foe Gallacher claimed.
Gallacher was on the losing side of the spectrum when Watson skippered the victorious US team in '93.
"I thought he was the right appointment at the time but I have to say during the Ryder Cup there was a generation gap between Tom and his players," said Gallacher, who skippered Europe to the Cup in 1995.
"I mean Tom is actually the oldest Ryder Cup captain ever at 65 years old.
"He's a very special person, he's popular in Scotland and that was probably the main reason he was picked as captain.
"But if you saw [Europe captain] Paul McGinley, Paul McGinley's really still a player and he looked like part of the players, the players could associate with Paul McGinley, he was one of them.
"You did feel Tom was sort of the wrong era and so that was one thing."
But Gallacher said Watson was also missing key artillery - including Tiger Woods - making his challenge to wrestle back the Ryder Cup all the tougher.
"A lot of people [have] forgotten that Tom Watson was unlucky in as much as he had three important players missing," Gallacher continued.
"He had Tiger Woods missing injured, Dustin Johnson got most points for the Americans at Medinah, a great player, he's in the top 10 in the world, and Jason Dufner was injured and he couldn't play either.
"So he had three big players missing and people have forgotten that."