Sanctioned: Paul Gallen fined for Twitter outburst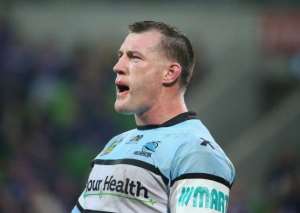 Gallen, also the Cronulla Sharks skipper, was on holiday when he tweeted an offensive comment - aimed at the NRL - following confirmation of Steve Noyce's departure as Cronulla's chief executive.
Noyce's exit on Wednesday continued a turbulent period for the Sharks, who have been embroiled in a doping scandal.
The league have now come down hard on controversial forward Gallen, slapping him with a fine and also a suspension from the national team for the 2015 - barring his successful completion of a leadership course.
Cronulla chairman Damian Keogh supported the sanctions.
"The last two years have been a difficult period for the Sharks and our focus is on performing strongly on and off the field in 2015," he said.
"So it is disappointing to have the club involved in this sort of issue as we prepare for next season."
Gallen, back in New South Wales to promote his upcoming boxing fight, said he tried to contact NRL chief executive Dave Smith upon landing in Australia.
"I tried to ring Dave Smith and the club within minutes of getting off the plane," Gallen said.
"I haven't got hold of him yet. I don't know what's going on. I'm here for the fight. I put something on Twitter. I used language I should've have used. I'm here to talk about boxing.
"Boxing has given me a massive focus apart from rugby league. I'm looking forward to training. I haven't been able to train for a long time for different reasons."