Epic encounter: Andy Murray beat Tommy Robredo 3-6 7-6 (9-7) 7-6 (10-8) in the Valencia Open final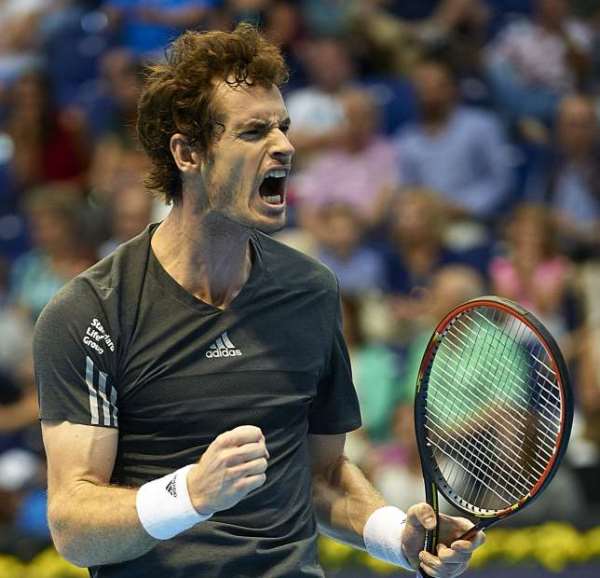 Last month's Shenzhen Open showpiece between the two saw Robredo pass on five match points before Britain's number one secured victory, and it was the same story again on Sunday.
Off the back of five consecutive weeks of action, Murray looked exhausted as he ultimately surrendered the first set.
However, with a chance to all-but secure his spot in the season-ending ATP Tour Finals, the Scot roared back with a stirring show of defensive grit.
Both men put everything into an absorbing decider which had the Spanish crowd on tenterhooks, with home favourite Robredo reaching championship point five times once again.
But the 32-year-old again came up short as Murray converted his second match point after a second gruelling tie-breaker, putting him two wins at next week's Paris Masters away from securing a place at London's O2 Arena next month.
Murray stayed deep through much of the opening set, though that allowed Robredo to move him around the baseline and draw first blood in game seven as the Scot was stretched too far and could only net a crosscourt backhand.
Having already saved two break points, Robredo saved another four in a back-and-forth eighth game lasting 10 minutes before Murray went long when back on his serve to help his opponent move 1-0 ahead.
Murray's response was immediate and the Scot looked energised after putting the first set behind him, breaking Robredo instantly in the second.
The early breakthrough drained much of the energy out of both men, with holds of serve proving simple until Robredo found a second wind to level at 4-4.
As the game meandered into a shootout, Robredo was vociferously backed by the crowd and brought up a first match point with a mesmerising backhand on the run that left the Spaniard hanging over a barrier and Murray looking lost.
However, Murray again came back, serving an ace and crushing a forehand down the line before Robredo netted to level the contest.
Robredo broke to love for a 4-3 lead in the decider, but Murray mustered a meaty passing backhand to break straight back and carve his first championship point at 5-4 - but Robredo clung on.
As another tie-break got under way, Robredo found incredible strength, bombing groundstrokes that Murray desperately looked to fend off, but three further blown chances to win left the home hope a frustrated figure.
And Murray showed his champion's spirit to shift Robredo wide left before crashing the ball away - collapsing in equal ecstasy and exhaustion as Robredo was left to count the cost of his big-moment failures again.