2014 World Cup Presidential Commission not out to witch-hunt anyone – Chairman assures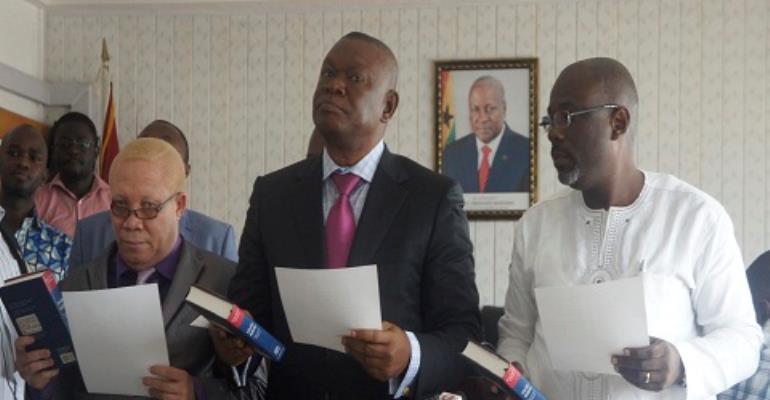 Chairman of the Presidential Commission of inquiry into events leading to Ghana's disastrous campaign at the 2014 World Cup Justice Senyo Dzamfe insists his team is not out to witch-hunt any individual or group as they start their work.
The three-member body which was put together by Ghana President John Mahama to investigate the various issues that led to the Black Stars' crashing first round exit from the tournament staged in Brazil was officially commissioned by Sports Minister Mahama Ayariga on Monday to begin its work.
The commission, armed with the powers of a High Court will also look into the issues of player indiscipline and agitation over delayed payment of appearance fees during the tournament – a situation that led to the widely publicized airlifting of over $3m to satisfy the demands of players.
Some sections of the public however feel the commission is being put on a mission to maliciously pursue officials of the Ghana FA and the Sports Ministry who were directly involved in Ghana's failed bid at the World Cup.
But chairman , Justice Dzamfe says the commission will set out itself to be very fair and balanced and will work within its powers when it commences proceedings.
"This is not a witch hunting commission," he said at the commissioning ceremony at the Sports Ministry on Monday.
"No group or individual has been targeted by the commission, no, that is not our aim.
"We only want the truth and will be working strictly according to our terms of reference.
"We know we have the powers of a high court and therefore we will be working within our powers and will not go beyond it."
The Commission will begin its work on Monday and are expected to complete and submit their findings and recommendations to the Ghana government within 30-days.
Source: metro941 . fm
For more Ghana football news visit www.ghanasoccernet.com