Ghanaian Players in Europe: Top 11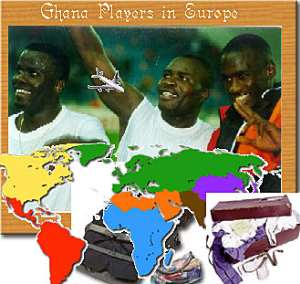 The European season is over for most of the Ghanaian players. So, who were the main movers and shakers? Below is a run-up Team of the Year: 4-4-2 Ibrahim Dossey (FC Brasov, Romania): The few Ghanaian goalkeepers in Europe are bench warmers. Thus, this position was a toss up between Dossey & Kingston (Galatasary). RATING -/10 John Mensah (Chievo/Modena, Italy): It has been a difficult season; he was loaned out from Genoa and then injury limited his opportunities. But you know what you will get with him and when he's called upon, he will slot in and do the job. RATING: 5/10 Sammy Kuffour (B. Munich, Germany): Still the best defender we have and the rock on which his club's defense is built. He may have had a few problems in the Champions League but he has been exceptional in the German league. I have a funny feeling this was his last season at Bayern. RATING: 7/10 Sam Johnson (Gaziantepspor, Turkey): He had a great season in which he managed to score 5 goals, despite playing in a defensive role. At the start of every season, I write the epithet of "Foyoo", but he has proved he still has a lot to offer. A great athlete with an extraordinary work-rate unequaled by any other Ghanaian player abroad. He deserves to play a part in the nations bid for world cup qualification. RATING: 7/10 Abubakari Yakubu (Ajax Amsterdam): Many might have forgotten that Yakubu had a great run in the first half of the season, with a couple of spectacular performances in the Dutch and champions league. He is still learning the game, but this season he has demonstrated the potential that could make him a great player. RATING: 5/10 Sulley Muntari (Udinese, Italy): Had a great first half of the season, but faded in the second half. His high-low season went hand in hand with his club's. When he's at his best, he makes the whole team tick. He is one of the best passers and receivers of a ball. RATING: 6/10 Stephen Appiah (Juventus, Italy): Started the season so well, he was compared to the Dutch midfielder Edgar Davids. Lost his spark in the middle of the season, but came back strong in the end to prove he does have a future at Juventus. He plays with a group of world-class players, and he does not look out of place. At his best he is one of the best midfielder of his type in the world. RATING: 7/10 Michael Essien (Lyon, France): He has proved an outstanding figure throughout the season - a mature player and excellent contributor from midfield. He has become one of the favourite players at his club. Crowned the season with his first league title. RATING: 8/10 Anthony Obodai (Ajax, Netherlands): Spent most of the season coming off the bench, but when he did, he always excelled. He doesn't have lightning pace, but he is one of the most intelligent Ghanaian footballers. His ability to be available for others and to spot passes is fantastic. RATING: 6/10 Isaac Boakye (Arminia Bielefeld, Germany): The find of the season. He has been the biggest surprise to me and probably to many Ghanaians. He joined his club in the second half of the season and proved to be the piece of the jigsaw that made it all fit together. Helped his team gain promotion to the German bundesliga. He's had a great season and I think he can only get better. Ghana will soon have a world-class striker at her disposal. RATING: 8/10 Mathew Amoah (Vittese, Netherlands): Because of injury, he has not been able to find the consistency he has shown in previous seasons. However, he was a shining light in a season of gloom for his club in their relegation struggle. He is still learning and I think he has incredible potential. It is unclear why a football giant still hasn't signed him. RATING: 6/10 RESERVES Defenders:
George Blay (Louvre, Belgium): Spent most of the season as a regular right fullback for his team. RATING: 5/10 John Paintsil (Maccabi Tel Aviv, Israel): A very reliable centre back. Great first season outside Ghana. RATING 6/10 Midfield Hans Sarpei (VFL Wolfsburg, Germany): Has been very consistent and has also become a better midfielder this season. RATING: 6/10 Godfred Aduobe (Hansa Rostock, Germany): Had a great start to the season, but faded for the rest of the season. Still relevant for the national team. RATING: 5/10 Forwards Alex Tachie Mensah (St. Gallen, Switzeland): He is the most prolific Ghanaian scorer abroad, but the only reason he's not in the top 11 is the level of the league. RATING: 6/10 Awards Player of the Year: Michael Essien Rookie of the Year: Isaac Boakye Top Scorer: Alex Techie-Mensah Titles Augustine Arhinful (Trabzonspor): Turkish Cup Koko Kamara (Bnei Sakhnin): Israel Cup Michael Essien (Lyon): French League Felix Mordeku (FC Wil): Swiss Cup Anthony Obodai and Abubakari Yakubu (Ajax): Dutch Champions Lawrence Aidoo (Nuernberg): 2.Bundesliga Champion - Promotion . Isaac Boakye (Bielefeld): Promotion into Bundesliga with.