Refund World Cup Cash…Nana Fitz Tells GFA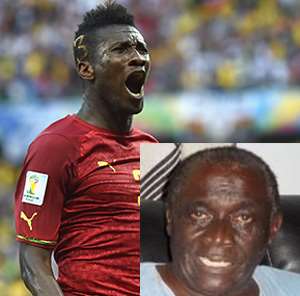 Asamoah Gyan, INSET: Nana Fitz
Asamoah Gyan, INSET: Nana Fitz
Football administrator Nana Fitz is calling on the Ghana Football Association (GFA) to cough out the $3m appearance fee paid to the Black Stars.
To him, the team's abysmal performance at the 2014 World Cup did not merit their honorarium, and therefore asked that the money be returned to government chest.
He told DAILY GUIDE SPORTS in an interview that the players compelled government to defy rules regarding the transfer of hard currency outside the country, yet they failed to honour their part of the contract of qualifying to the semis.
The former Cornerstone boss pointed out that returning home after a disappointing World Cup to say sorry was not enough.
He stated that the only way to appease the many soccer followers in the country was to give back the $100,000 each player received to government to develop the sport.
'We are not taking sorry for an answer. Sorry for what? Look at how they forced government to breach rules regarding transfer of cash.
'The country was in a difficult situation at the time, but government sacrificed and honoured its part, so we expected that they should have done their part too,' said Nana.
The transportation of the over $3m from Ghana to Brazil which was beamed live on Globo TV in Brasilia attracted massive media attention and has become topical worldwide.
The Black Stars returned home last Sunday afternoon after a disappointing World Cup – recording just a point in three matches.
Coach of the Black Stars Kwasi Appiah and skipper Asamoah Gyan, on arrival in Ghana, rendered profuse apologies for their below-average showing in Brazil.
Today, the FA is expected to meet with the media to address what really went wrong in Brazil.
By Kofi Owusu Aduonum