Presidential explanation: Nyantekyie: Senior players think they know everything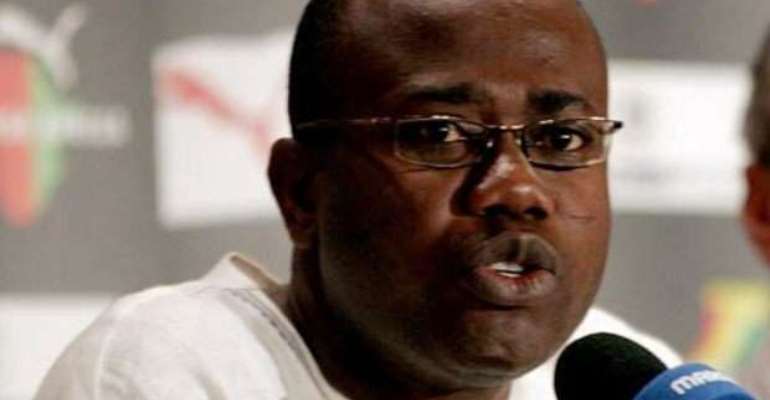 Ghana Football Association president Kwesi Nyantekyie has welcomed President John Mahama's call for an inquest into the Black Stars campaign in Brazil but says 'rebuilding' the side is not the way to go moving forward.
Ghana crushed out of the tournament at the group stage after two 1-2 defeats to USA and Portugal and a draw with Germany in group G but the more disturbing tale of the tournament was discipline breakdown in camp, a row over appearance fee that made worldwide attention for the wrong reasons and official incompetence that simply failed to deal with the issues that cropped up during the two week campaign.
President Mahama suggested after the defeat to Portugal that a committee will be needed to look into the entire tournament while calling for a rebuilding to take care of what he suggested were the challenges of fusing one generation with another.
'An investigation is an inquiry to find out. It's important for us to find out what happened and to dig deep so it is a healthy suggestion,' Nyantekyie told AllSports.com.gh in an exclusive interview. 'There are many issues involved and this is just one of them. There are issues from many aspects and it is important for us to do a good post morten and move on.'
While Nyantekyie agrees with the need for a thorough look into the events in Brazil, he disputes that there is the need to rebuild the national team completely.
'The national team is an ongoing project. I don't know what a rebuilding is. Is it going to be a total overhaul which involves laying off the players and building a new team? I don't think that is the way to go. Asamoah Gyan has more years in him after three world cups. Dede Ayew and Kwadwo Asamoah have two world cups but they have a lot more years to go. The younger ones like Jordan, Warris have a lot of promise. In my view this team will not need four or five players to move ahead in my view.'
Nyantekyie denies the suggestion that there are generational issues with the Black Stars but claims the side is suffering from the syndrome of established players challenging everything.
 'In terms of the players staying together it is always a blessing to have a blend of experience and youth. When you have players who have been around for a long time they tend to think they know everything,' Nyantekyie said.
'They challenge the coach, demand to be consulted on selection which is nonsensical and older players who think they deserve to start as of right. That is where the friction comes. We have not had many such problems.
"The challenge is to manage the expectation of these people off the field. They seem to be highly opinionated. They think they know everything. They challenge choice of hotels every time for instance.
"The hotel we slept in Brasilia they complained but that was a venue specific hotel chosen by FIFA. Brazil slept there before one of their games. Every other team which is team B in the competition will sleep there so it did not lie with us to choose. So at a certain point it is important to allow those people to move on.'