Roger Federer in awe of Rafael Nadal achievement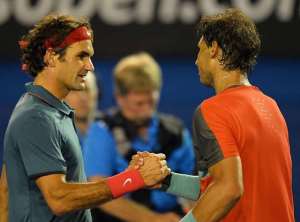 The world number one saw off Novak Djokovic in Paris as he continued his dominance of the clay-court tournament.
Federer, who has won 10 of 33 career meetings with Nadal, described his old adversary's achievements as "gigantic" and said is pleased to see Nadal bounce back from a number of defeats on clay in recent weeks.
"Of course I was really happy for him. What he's proving on clay year after year is gigantic," he said.
"You only can raise your hat to him. For me Rafa was the favourite before the tournament. Only afterwards did everyone say 'it was clear that he would win the French Open'.
"They said he can't play tennis because he lost two matches on clay and therefore I think it's nice that he showed it to everyone again."
Federer will begin his Gerry Weber Open title defence with a second-round clash against Joao Sousa on Wednesday.
The Swiss world number four is eager to prepare as well as possible in Halle for the third slam of the year at Wimbledon.
"Here in Halle I have to defend my only title from last year and at Wimbledon I have nothing to defend," he added.
"I have to prove myself at Wimbledon. Normally there's enormous pressure about the points and that you are playing well. Probably this year I can relax a bit at Wimbledon but now in Halle there's big tension."
Federer remained in fourth place in the latest world rankings, with Ernests Gulbis rising up seven places into the top 10, while Andy Murray jumped up three spots to fifth.
In the women's rankings, Roland Garros finalist Simona Halep is up a place to third as winner Maria Sharapova rises to fifth from eighth.