Leicester City boss deceived into congratulating Schlupp over fake Ghana World Cup squad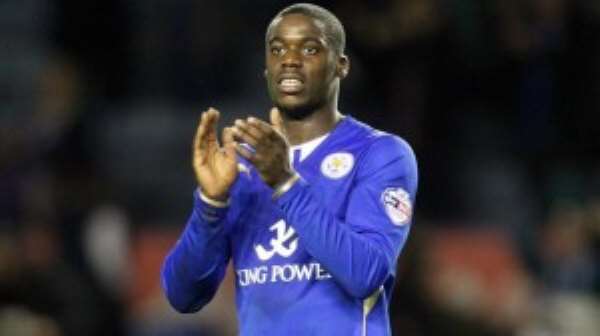 Leicester City manager Nigel Pearson has been deceived into praising defender Jeff Schlupp over a fake Ghana World Cup squad which has been rubbished by the Ghanaian federation.
The manager was moved into congratulating his left-back after the Ghana News Agency (GNA) claimed that it had received Ghana's 30-man provisional World Cup squad that included Schlupp.
The report said the 21-year-old could be on his way to Brazil this summer after being named in the Black Stars' provisional 30-man squad.
The list of names which the GNA claimed to have received has been rubbished by the Ghana Football Association.
Schlupp, who was born in Germany but to Ghanaian parents, already has one cap to his name after making his debut against Gabon, in November 2011.
Even without waiting for the confirmation from the Ghana FA, Pearson went ahead to praise the youngster over the supposed call-up
"It's very good and I'm pleased for him. I think that's a real incentive on an individual level but also it gives you an indication that his performances for us have been positive," said Pearson following the publication of the list which has now turned out be a fabrication.
"He's got recognition in a year that is quite a good one to get recognition in from an international side."
Schlupp, who came through the City academy as a striker, has been utilised primarily as a left-back this season and has been included among the shortlist of 10 defenders in the Ghana squad.
"It's nice to have players who are adaptable. I think Jeff has shown a real aptitude for playing there, he's done very well," said Pearson.
"He's got explosive qualities that are very difficult to play against.
"I suppose there is always going to be that question of whether he's a striker, a wide striker or a full-back. I think it's important to recognise for players to be able to adapt they have to be positive upstairs.
"If you are a striker and all of a sudden your manager is saying you are a left-back, that takes a bit of coming to terms with.
"On the occasions that we speak about his aspirations, he wants to play and is prepared to play anywhere. That is very commendable."
But while Pearson admitted that he enjoys having such a versatile player at his disposal, he says that it will help Schlupp, who is currently side-lined with a knee injury, to nail down one position.
"I have played with some really good utility players and maybe their careers have not really flourished in the way they could have done if they had concentrated in one area," said Pearson.
"I am very pleased to have a number of players who are very versatile, and can play in different positions, and that's great, but ultimately, I am a believer in playing the right people in the right areas. I think Jeff is a very capable left-back."