Black Stars Farewell Match: Texting Galore as Local players leave nothing to chance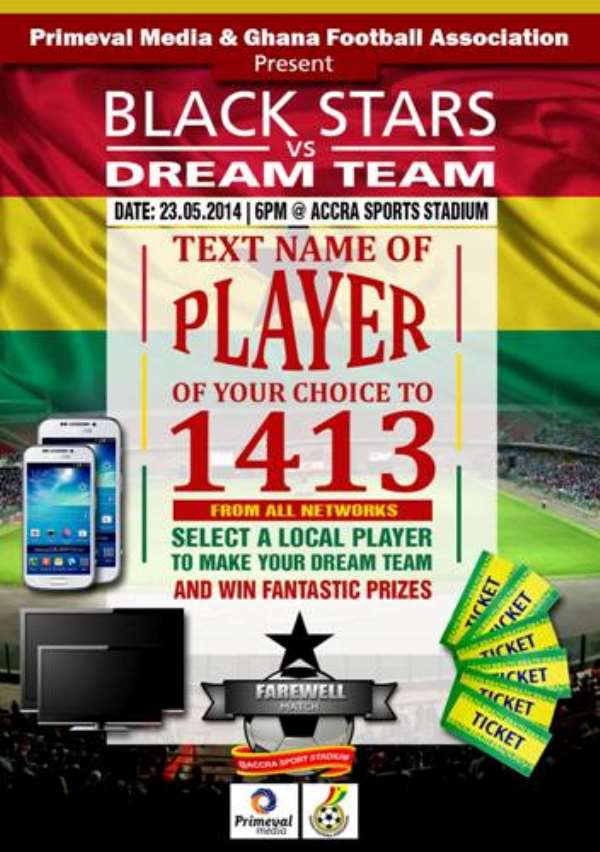 Football players and their managers in Ghana are leaving nothing to chance as they are bent on getting both their names and that of their players in the final 'Dream Team' that will play against the Black Stars on May 23 at the Accra sports stadium.
The senior national team the Black Stars will play their local counterparts in a Farewell Match being organized by Primeval Media an action that will see the Stars say a BIG thank you to the Ghanaian soccer fan for their immense support and contribution to their smooth qualification to the 2014 World Cup slated in Brazil.
Per the procedure, only players with the highest number of text messages sent will make the Dream Team to play the Black Stars on that fateful and promising day. The text code which is 1413 is said to be buzzing according to the organizers.
Investigation carried out by Sportscrusader.com can confirm that these players especially those in the lower divisions (1 & 2) are not relenting in their efforts to get the rare opportunity to play alongside their football icons and have started texting their names to the short code.
For players who might not have the means, their managers have taken the mantle and are doing the texting on their behalf an indication that the football fraternity has embraced the Farewell Match, so much so that almost every player wants to be part.
"Unfortunately only the first twenty players with the highest number of votes from the fans will be contacted and they will form the 'Dream Team'. Players from the first and second divisions as well as the Premier league will be selected, an action which will comprise fifteen players from the elite league, three from the first division and two from the second division", Jeffery Asare, Communication Director of Primeval Media mentioned.
One player from Hearts of Oak who pleaded anonymity has already texted 27 times since last week and texts him name to the  short code three times every day. "I don't have a manager to do that for me, so I am helping myself. With God on my side I know I will be selected and will show the whole Ghana what I can do".
Indeed not only must the fans select the local players, they will have to select the other members of the technical team especially the head coach for the 'Dream Team'. But from all indications, the players, their fans and their managers are not too interested in the coaching aspect.