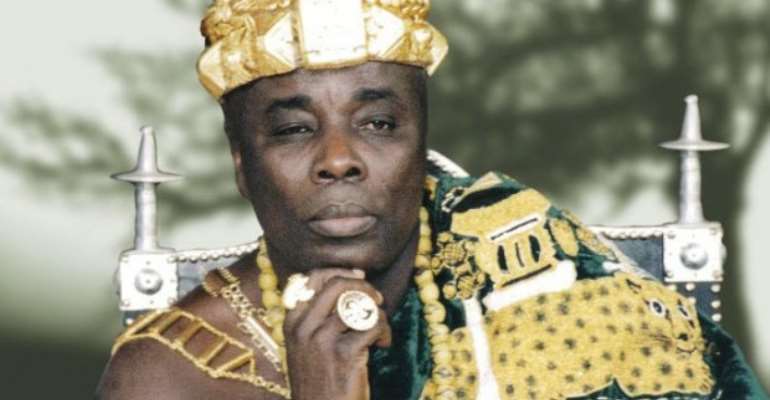 Osagyefuo Amoatia Ofori Panin I
Osagyefuo Amoatia Ofori Panin I, the Okyenhene, has replied President John Mahama regarding the latter's recent utterance during a two-day duty tour of the Eastern Region that 'Kyebi is the headquarters of 'galamsey' in Ghana,' charging the President to rather tag the region as the headquarters of bad roads.
The Okyenhene noted that the poor nature of roads in the region had contributed to the collapse of some businesses, and inflicted hardship on travellers in the region.
The Okyenhene challenged Mahama when addressing his sub-chiefs during the Akyem Abuakwa Traditional Council's first meeting of the year at the Ofori Panin Fie, Kyebi, last Friday.
He charged the government to fix the roads, adding that if such roads were rehabilitated, the unemployed youth could engage in other businesses that involve travelling rather than engaging in the 'galamsey' (illegal mining) activities.
Interestingly, it was the NDC administration that launched the 'Youth in Small Scale Mining' programme in the Eastern Region, which apparently opened the floodgate for 'galamsey.'
The Okyenhene recalled that during the Regional House of Chiefs' encounter with the President, the traditional rulers told him about the nature of the roads and appealed to him to repair them but that had not happened.
According to the Okyenhene, about 243 schools in the Eastern Region have poor infrastructure and the academic performance of the students had been very poor. He called on all stakeholders to come to their aid so that the students could improve their performance.
Touching on the issue of land in the Akyem Abuakwa Traditional Area, the Okyeman monarch cautioned chiefs to desist from land disputes and stated that the Okyeman Lands Commission would be reconstituted to deal with land matters.
He bemoaned the encroachment on the lands in the area by some foreigners, and stressed that all unregistered ones would be seized from the owners if necessary.
He advised the kingmakers in communities who had lost their chiefs, notably Asiakwa, Apapam, Anyinasin, Asamankese, Nsutam and Osino to put the necessary structures in place to enstool new ones, assuring the gathering that he would accept and bless those who would be installed as chiefs.
On the issue of chieftaincy disputes, the Okyenhene disclosed that he would soon outdoor a committee made up of some of his sub-chiefs whose duty would be to resolve such disputes.
While urging the sub-chiefs in the Traditional Area to always observe the annual pouring of libation to invoke the ancestral spirits to protect the people, the Okyenhene urged them to ensure environmental   sanitation in their areas of jurisdiction.
He urged Nananom to promote education in their communities and announced that a grand durbar would climax his 15 years on the Ofori Panin stool.
Daasebre Awuah Kotoko II, Benkumhene of Akyem Abuakwa Traditional Council and Begorohene, who spoke on behalf of the sub-chiefs, expressed gratitude to the Okyenhene and said they were happy about the various initiatives instituted by him.
[email protected] mailto:[email protected]
FROM Daniel Bampoe, Kibi