Legon 'Goes Red' For Women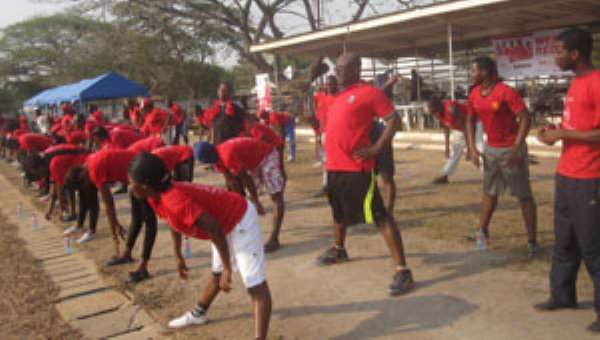 Participants taking part in the exercise

A family sports picnic code-named 'Wear Red Day', an initiative that seeks to promote healthy living in society, rocked the athletics oval of the University of Ghana last Saturday.
The maiden edition, put together by Go Red for Women Ghana, in collaboration with the University of Ghana (UG) Sports Directorate, saw close to 100 families and students participating in various sporting activities.
Participants began the exercise with a 1-km health walk on some selected routes of the University, followed it with aerobics led by Alfred Attieku, a health talk by speakers from the UG Sports Directorate and experts from  the Ministry of  Health, fun games and crowned it with a medical screening.
Director of Sports at the University of Ghana, Dr Bella Bello Bitugu, described the event as a huge success with a two-pronged benefit – having fun and exercising at the same time.
He indicated that his outfit and Go Red for Women had set aside the month of February to mark the event, and in their quest to sustain the momentum, they were considering meeting on a regular basis, possibly weekly.
The Country Director of Go Red for Women, Selasie Doku revealed that women had been made the centre of the initiative because of their role as food makers in their respective homes.
Go Red for Women Ghana is an international awareness campaign created by the American Heart Association in 2004 to empower women with the knowledge and tools to take charge of their health and that of their families.
The campaign aims to encourage women to seek more medical attention and to prompt the government to add this topic to the health agenda.
 By Kofi Owusu Aduonum