Egypt To Axe Goalkeeper Ekrami For Ghana Clash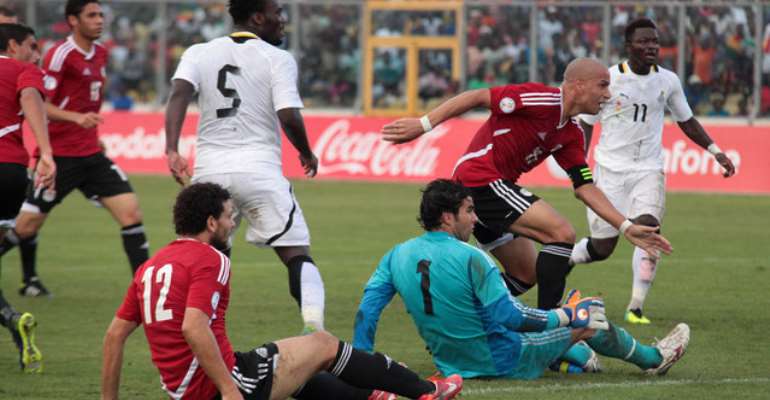 Egypt coach Bob Bradley has hinted that he may drop keeper Sherif Ekrami from the starting XI to face Ghana in the second-leg of their World Cup playoff clash in Cairo on Tuesday.
The American trainer is likely to use his second choice shot-stopper Ahmed El-Shennawy for the match to be played at the Air Defence Stadium.
Ekrami started in the first-leg and conceded three of the goals before he was substituted by El-Shennawy because of an injury he suffered during the match.
However, the Al Ahly goalkeeper was accused of feigning injury to avoid the humiliation in the match which has resulted in calls from many quarters for him to be replaced as the first choice goalkeeper.
El-Shennawy was used as the first choice on Thursday when they played Zambia in a friendly and conceded no goals during the match.
Bradley says he is considering starrting El-Shennawy in the match against Ghana to boost their chances of beating the Black Stars.
" Ekrami had some physical problems with that affected him with Ahly. Ahmed El-Shennawy is on the rise but played too little over the past year," Bradley said.
"He needed a match and that's why I made him play against Zambia.
"If I go by the book it will be Ekrami who played regularly with Ahly and with us.
"But If I follow my guts it will be El-Shennawy. It is too many details and we will discuss it in the staff."
Egypt need to win by a five-goal margin against Ghana on Tuesday to reach the World Cup finals.