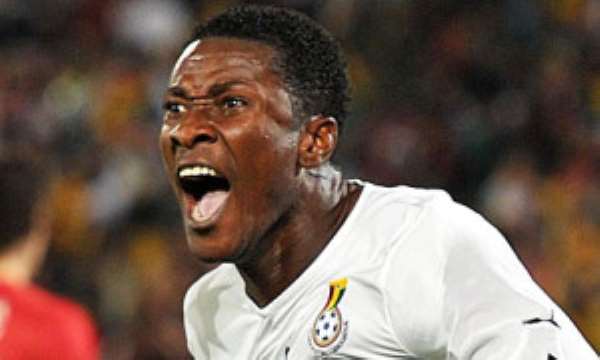 Ghanas-Asamoah-Gyan-celeb-006
As Africa Top Sports just released the 2014 World Cup Dames' draw made on Monday pitting the Black Stars to the seven-time African champions http://en.africatopsports.com/wp-content/uploads/2013/09/Ghanas-Asamoah-Gyan-celeb-006.jpg , Captain http://en.africatopsports.com/2013/09/16/world-cup-2014playoffs-draw-tunisia-cameroon-egypt-ghana-burkina-faso-algeria-nothing-but-shocks/ Asamoah Gyan in the country of Kwame Nkrumah declares no bit of fear challenging the most crowned team in Africa.
Questioned by our colleagues from Accra-based Happy FM , the Al Ain striker dropped optimistically:  "I'm not surprised about Ghana meeting Egypt. We should make room for everything. We are not going to have any problem once we are focused and make sure we have the goals in the first leg. We have to qualify at all cost. It doesn't matter who we are facing, all we need is to keep our heads up and win. I'm sure we are winning whether in Kumasi or Cairo .
Note that Asamoah Gyan saved his country by scoring the two goals that enabled Ghana to hold in check Turkey in a friendly match in August with a 2-2 draw http://en.africatopsports.com/2013/08/15/fifa-day-turkey-2-ghana-2-gyan-thank-you/ .
So the great striker really means his words! Beware Egypt!