NBA: Chicago defeated to the video!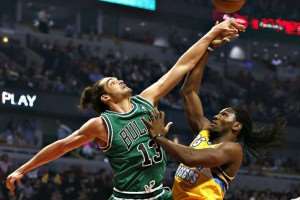 "I t hink we'll call the league for an explanation," said Tom Thibodeau embittered by the refusal of the basket from Joakim Noah 1' 7 from the end of the match between the Bulls and the Nuggets.
Referring to the video on the tap pivot French, black men were winning the game against the franchise Illinois 118-119 AD.
If they were right to invalidate the basket from Noah after a too short shooting of Marco Belinelli, it is still a sense of injustice that drives the Bulls
"It's disappointing. We play so hard. I do not understand how they can check my actions while two actions before they did not see anything again? The referees do their best, but it cost us the game, " says Franco-Cameroon (14 points, 12 rebounds, 6 assists) in the Chicago Tribune.
And his head coach to deliver his assessment of the facts of games that change everything
"I do not understand. On the action of Koufos, i asked why they have not seen the action again. Because it was clearly on the circle. They told me that as they had not asked for the video at the time, they cannot then check it (…) I thought the video was there to allow things to be well done. But I cannot understand why they verify an action and not the other. '
Two decisions in 40 seconds which switch the match in favor of Denver, which recorded its 12th consecutive victory thanks to Wilson Chandler (35 points, his career high)
http://www.youtube.com/watch?v=FOpkQTtkvFg