Habiba Ghribi : Biography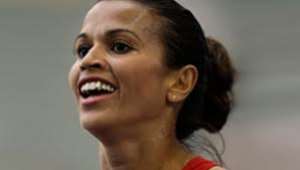 Habiba Ghribi was born on 9th April 1984 in Kairouan.
Her family emigrated to Sfax to allow the children to be educated in good conditions.
Personal life:
- She married Khaled Boudhraa, coach of Algerian origin.
- August 2012: she announced her divorce after the London Olympics.
Career:
Specialist of middle-distance and long-distance races. She is world-vice champion and Olympic silver medalist in 3000 m steeplechase. She also holds the record of Tunisia in the discipline. On August 6 2012, she won the London Olympic silver medal in 3000 m steeplechase, becoming the first Tunisian among  10, and the second athlete from Tunisia from both sexes to win an Olympic medal after Mohammed Gammoud
She is trained by the club Rades since 2003.
Palmarès
- 2002 African Championships in Radès, 11th in the 5000 m
- 2005 Arab Championships in Radès , 2nd in the 10,000 m
- 2006 African Championships in Bamboo, 2ndin the 3000 m steeplechase
- 2008  Beijing Olympic Games, 13th in the 3000 m steeplechase
- 2009 Mediterranean Games in Pescara, 3rd in the 1500 m
Berlin World Championships, 6th in the 3000 m steeplechase
- 2011 World Championships in Daegu 2nd in the 3000 m steeplechase
- 2012 London Olympics 2nd 3000 m steeplechase
Records:
- 4 min 12 s 37 in the 1500 m  in Pescara on July 3, 2009
- 8 min 56 s 22 in the 3000 m in Franconville on May 8, 2011
- 16 min 12 s 9 in the 5000 m in Radès  on June 22, 2003
- 9 min 8 sec 37 in the 3000 m steeplechase in London on August 6, 2012 http://www.youtube.com/watch?v=lDC5l8MRngo http://www.youtube.com/watch?v=ztkYQfwzF5M http://www.youtube.com/watch?v=DkVdogu1ApY