England : The South African Pienaar sees red!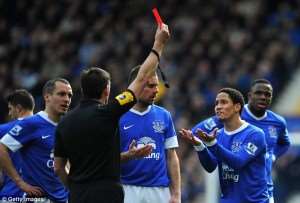 Difficult afternoon for Steven Pienaar. The South African midfielder of Everton was excluded during the Premier League match between his team and Manchester City. Pienaar took first a yellow card in the first period after a tackle (his team leading 1-0, Osman goal).

After the first half-time, the former Tottenham is the author of a nasty tackle on Javi Garcia. The referee Lee Probert waved a second yellow card. But Pienaar had to appreciate the fighting spirit of its partners, despite the numerical inferiority they played hard against Citizens. Jelavic scored a second goal in the 93rd minute of play to seal the victory of Tofees (2-0).