UT Holdings inject 30,000ghc into Amidaus Professional Football Club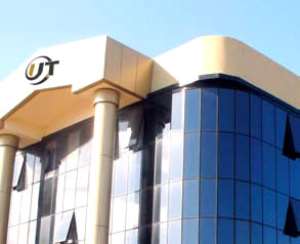 UT bank
57500
Accra, March 13, GNA - The UT Group has injected 30,000ghc as a sponsorship package to Amidaus Professional Football Club in Tema, to enable them meet their financial obligations for the second half of the Glo Premier league.
Rami Baitie, Group Head, Corporate Affairs and Marketing of UT Holdings, who announced this in Accra said, this is part of the Group's contribution to football which has virtually become the heartbeat of the country, adding that 'we believe that government alone cannot shoulder the sports development due to the huge investments that the sector requires'.
He noted that, the partnership between the two organizations will be mutually beneficial since Amidaus Professional FC resonate the culture of the UT Brand where a young, tough, innovative and a disciplined team is already winning and making its mark within a few days of entering the Premier League.
Ahmed Gambo, President of Amidaus FC expressed the team's appreciation to UT Group for coming to its aid.
He said the sponsorship will be used for the payment of management fees and player bonuses to boost the morale of the players and urge them to give off their best.
He said the news of the injection alone boosted the morale of the team to qualify to the quarter final stage of the MTN FA Cup and he is of the view that,  it will encourage them to attain a comfortable position in the Glo Premier League and be among the Top Four Teams.
Amidaus FC joined the Glo Premier League this season and they are already in the fifth position.
UT Holdings is one of Ghana's largest and most diversified private companies with holdings in a Bank, Life Insurance, Logistics, Properties Management, Debt collection, Private Security Services, and non-bank financial institutions in Nigeria and South Africa, providing diversified but integrated financial solutions to small and medium businesses and individuals. 
The vision of UT Holdings is 'to be globally recognized as Africa's leading provider of unique business and financial solutions'.
GNA