Ghana Ready For ECOWAS Games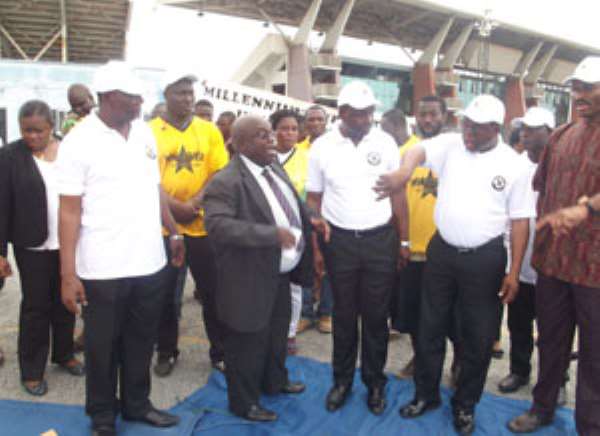 Wolanyo Agra (in suit) explaining a point to the sports minister and his entourage at the Accra Stadium
The Local Organizing Committee (LOC) chairman of the ECOWAS Games and the Deputy Minister of Youth and Sports Dr Edward Omane Boamah has declared that Ghana is ready to host the sub-region.
Beginning tomorrow June 16 to June 22, 10 countries including Benin, Senegal, Burkina Faso, Cote d'Ivoire, Togo, Mali, Niger, Sierra Leone and Ghana will battle for supremacy in the five-event competition.
At a media briefing at the conference room of the Ministry of Youth and Sports yesterday, the LOC boss mentioned that his outfit had worked tirelessly for the past two and a half months to ensure the successful hosting of the seven-day event.
He stated that renovation of facilities for the venues at the El-Wak and Accra Stadia for the Games as one of the challenges that confronted the LOC, but he revealed that works on the facilities had been completed and they were ready for use.
'I am happy to announce that the pothole laden tartan tracks at the El-Wak Stadium has been fixed; the Sports Hall at the Accra Stadium has been renovated to modern standards. Lights have been installed at the courts to be used for the handball and volleyball events. I can confidently say that Ghana is ready for the games,' he said.
He praised sub-committees made up of publicity, medical, accreditation, security, ceremonial and protocol, technical and facilities, feeding, accommodation and transport for an excellent job done.
The Minister of Youth and Sports Hon Clement Kofi Humado commended the LOC for an excellent job but cautioned that they put in place back-up mechanism to ensure a hitch-free tourney.
The LOC and the media, after the briefing, toured some of the venues for the Games at the Accra Stadium.
Companies like rLG Communications, GNPC, NPA, GOIL and Ghallywood have injected various forms of financial contribution to the Games.
A grand opening ceremony is expected at the El-Wak stadium tomorrow afternoon in the second edition of the Games that will see participating countries competing in traditional wrestling, handball, volleyball, athletics and boxing.
It was Nigeria who hosted the maiden edition in Abuja in 2010.
By Kofi Owusu Aduonum