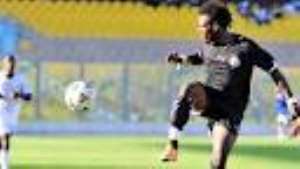 African champions league debutant Berekum Chelsea stunned one of African champions league power house, Raja club of Morocco by 5 – 0 at the Berekum Golden City Park.
The champions of Ghana had to dig very deep in the second period to score four basket loads of goals with three coming from Black Stars striker Emmanuel Clottey to re ignite the vicarious flag of Ghana high in the history of African club football.
The debutant had to fight through thick and thin before breaking the deadlock half way through the first period courtesy Solomon Asante as Raja did not opened up making it difficult for Chelsea to enter their defense with a whisker.
In the second half however, the young talented Solomon Asante who can beat any player inside a telephone box together with Awako Gladson and captain of the side Mohammed Abdul Basit thorn the Raja midfield into shreds to unleash the predator of the day Emmanuel Clottey to do the damage.
The pride of Berekum has taken a pole step and their name will forever remain in the statute of African club football even if they should be eliminated a fortnight time but the Ghanaian side is poised to maintain the nitch they've carved for themselves.
"We asked God for this win and he has given us so all we can say is, thanks be to his Holy name. We were very much aware of Raja's threat before the game and we worked adequately for it", midfielder Charles Taylor told pink fm sports.
"We had no other better plan than to open up in the second half and that is what gave us the goals but we will not open up when we play the second leg in Morocco. For now, we can't say we have qualified until the second leg is played because there are a lot of things in football though the way seems bright for us", coach Van der Plyum said.
Berekum Chelsea will travel to play the return leg in Casablanca, Morocco in a fortnight time.