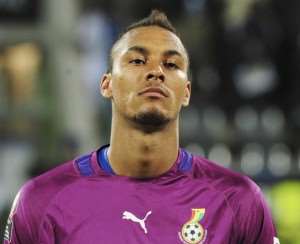 Ghana goalkeeper Adam Kwarasey
Ghana goalkeeper Adams Kwarasey is picking up the positives despite their failure to reach the final of the 2012 Africa Cup of Nations.
The Black Stars were dealt a devastating blow at the continental showpiece after Zambia beat them 1-0 in the semifinal in Bata on Wednesday.
The Norwegian-born glove man was criticized for his poor aerial judgement in the tournament, but he says he is learnt a lot on his debut.
'This is was my first major game at such a big tournament and surely I made some mistakes but I have learnt a lot,' Kwarasey said.
'I believe that the experience that I have garnered from this tournament will go a long way to shape me and make me a better goalkeeper for my nation. When the team wins, we all take the credit and when they lose, the same principle should apply,' he added