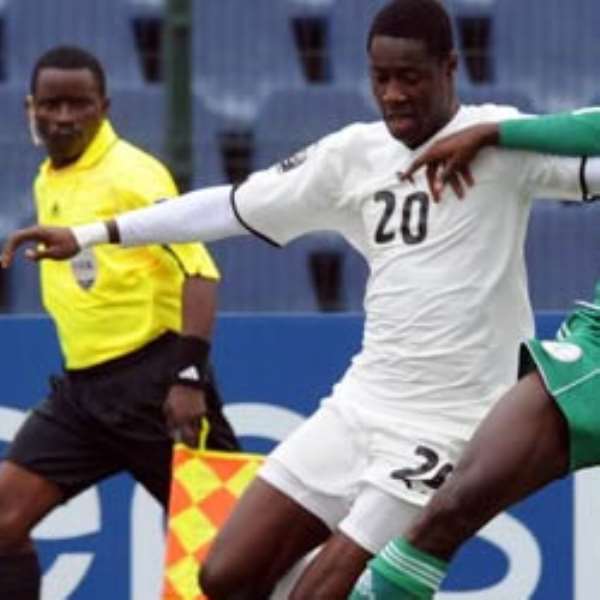 Ghana lost against Nigeria in the first game

A plucky 10-man Gambian side held defending champions Ghana in pulsating 1-1 drawn game in Group B of the ongoing African U20 Championships.
Yiadom Boakye's header late in the game offered Ghana a slim glimmer of hope as the Satellites need a convincing victory against Cameroon in the last round of matches in the group.
The Gambian's opened the account early in the first half through Boubacar Jammeh after an intriguing end-to-end action, provoking the Satellites into action.
An outrageous double-footed challenge by the goal scorer on the stroke of half time meant Gambia will play the next 45 minutes with ten men but the West African side was steely in defence after recess.
Coach Orlando Wellington's side were sublime in midfield, resolute in defence but lacked ideas in the final third.
On few occasions the Satellites asked probing questions of the Gambian defence but were denied by Camara in post for the Gambians
The Gambian's sat back and tried to catch the Ghanaians on a counter - a strategy which nearly paid off after Ghana's keeper brought down the Gambian attacker just on the 18-yard mark, but the Gambian wasted the resulting free-kick.
The Gambians defended as though their lives depended on it and looked set to a famous victory against the Satellites.
But a teasing cross on the left by Masahudu was superbly connected by a soaring Yiadom to clench a crucial equaliser for the Satellites.
As the clock ticked the Satellites poured forward in numbers but a comedy of near misses denied them the three points.
On two occasions, goal-bound headers, including that from Yiadom took a ricochet of the cross bar. If it wasn't a bad luck, the Satellites did not have any luck at all.
1-1 it ended but with Cameroon's victory over Nigeria in the group's early game, the Satellites now have a tall order to grind a convincing victory against the league leaders to prevent an early exit.
Story by Nathan Gadugah/Myjoyonline.com/Ghana