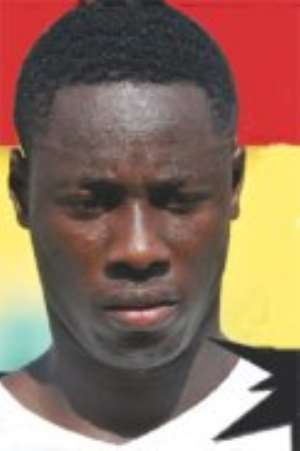 Grim-faced Black Satellites striker, Richmond Boakye Yiadom, faces a must-win battle with the Gambia
The title defence bid of the national U-21 side, the Black Satellites, in the ongoing Africa Youth Championship is on a knife -edge as they walk into a deadly challenge against the Darling Scorpions on Thursday.
The Ghanaians Monday, lost 1-2 to age-old foes, Nigeria's Flying Eagles, on a difficult pitch which was rendered soggy by a heavy downpour earlier in the day, making ball control very difficult. The Satellites conceded a cheap late goal, and that has rendered their clash with The Gambia a cliff-hanger.
The Nigerians, the only side with the best history in the tournament, having won it five times, and the only side to have successfully defended the title, showed greater appetite for another triumph with a strong start with star striker, Ahmed Musa, proving deadly for the Satellites defence and stealing the lead as early as the 17th minute.
Kwame Nsor glanced a header to pull even before the Nigerians broke the deadlock with that fluke goal on the 82nd minute.
Monday's defeat of the squad, generally considered the golden side of Ghana's football following their past accomplishments, was the high point of a tale of abysmal showing that has dogged Ghana football and made causalties of the local Black Stars, the Black Queens and the Black Meteors, all in a spate of two months.
Coach Olando Wellington, who was part of the history that saw Ghana win the last edition of the Africa Youth Championship in Rwanda as an assistant to Coach Sellas Tetteh, left the Dobsonville Stadium in Soweto having learnt a hard lesson that the Satellites he and Sellas crafted two years ago and the current generation may be worlds apart.
He needs more than wits to claw some pride for local coaches who have presided over Ghana's soccer ignominy as the Scorpions blaze all guns when they face the Satelllites on Thursday. The Gambians will definitely relish a moment of revenge after the Satellites had denied them the slot to the last edition of the Africa Youth tourney.
The Gambian threat is underscored by the call-up of seven foreign-based players by Coach Lamin Sarr for their grudge mission on Thursday. Athletico Madrid's Osman Jarye and lead striker Saihou Gassama are Gambia's talisman who will be relishing an upset of their foes.
But the Satellites, bereft of any elaborate pre-tournament preparations, still have a golden chance to bounce back into reckoning as the likes of Kwame Nsor, Mahatma Otoo and Richmond Boakye who played gallantly against Nigeria will go into this Gambian duel wiser.