OBED: THERE IS NO YES OR NO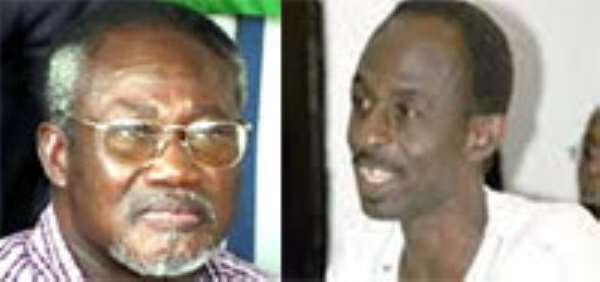 (left) Dr. Obed Yoa Asamoah and (right) Asiedu Nketiah
The longest serving Attorney General and Minister of Foreign Affairs in ex President Rawlings' government, Dr. Obed Yao Asamoah, who granted interviews to various radio stations across the country, denying that he had rejoined the National Democratic Congress (NDC), has at long last, admitted that in politics one cannot say yes or no to suggestions.
The Chronicle published in its Monday's edition that Dr. Yao Asamoah, and the Democratic Freedom Party (DFP), a party he founded, had held a series of meetings with some leading members of the NDC, and that the former chairman of the ruling party, together with the DFP, were on their way back to the NDC.
When the publication hit the newsstands, Dr. Asamoah came out strongly to deny it, describing the story as bogus, rubbish, and useless, and a complete fabrication.
But, speaking in an interview with Citi FM, an Accra-based radio station, he stated that though the story was not true, 'in politics, one cannot say yes or no to suggestions.'
Speaking in an interview with The Chronicle yesterday, the legal luminary confirmed that he did make the above comment on radio, but insisted that he and his party had not returned to the NDC, and that they were not mercenaries.
The DFP broke away from the NDC, after the latter's acrimonious national delegates' congress at the EREDEC Hotel, Koforidua, in the Eastern Region in 2005, where some suspected loyalists of the founder of the party, Flt. Jerry John Rawlings, beat up people who were supporting Dr. Obed Yao Asamoah.
At the congress, which saw the election of the current chairman, Dr. Kwabena Adjei, the former chairman of the NDC was glued to his seat for close to 24 hours, because he feared for his life, as some hooligans mounted a search for him.
Dr. Asamoah was eventually whisked away by the police from the congress grounds, even before the official election results were announced.