Government will not interfere in GFA affairs-Vice President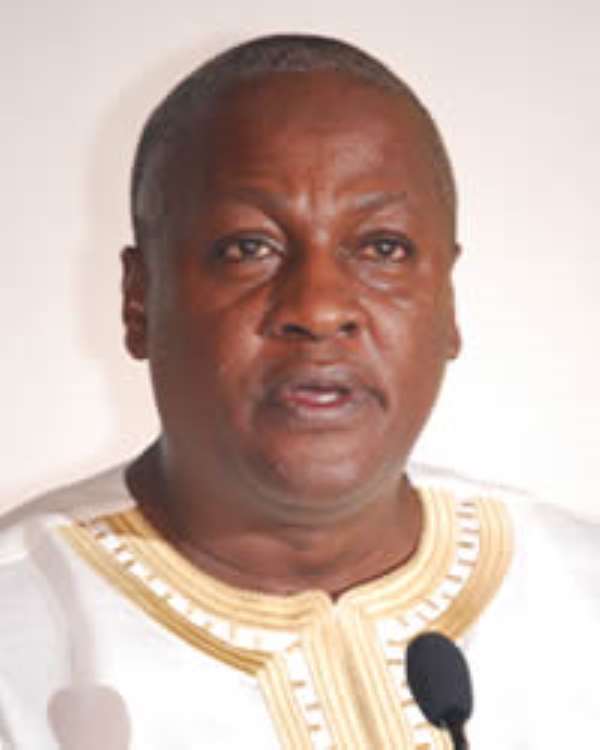 Vice President John Mahama

Vice President John Dramani Mahama on Wednesday gave the assurance that government has no intention of interfering in the work of the Ghana Football Association (GFA).

He said government would rather do everything possible to support the Association to attain its aims and objectives within and outside the country.

Vice President Mahama gave the assurance when he inaugurated the third FIFA Goal Project for the GFA at the Ghanaman Soccer Centre of Excellence at Prampram in the Greater Accra Region.
The project which is made of a multi-purpose restaurant and kitchen to cater for national soccer teams in the country and beyond is the third project after similar support for the construction of the GFA Technical Centre and the Head Office.

FIFA since 2002 had supported countries in establishing classrooms, Technical Centres, Football Association Head offices, Clinics and Restaurants as a way of harnessing the sport in member countries.

The ceremony attracted Presidents and Vice Presidents of Football Associations from the Gambia, Guinea Bissau, Uganda, Liberia, Mali, Togo, Zambia, Nigeria, South Africa, Tazania and Congo Brazzaville.

The Vice President appealed to the GFA to step up their formal educational programmes for footballers, so that they would be able to take up public positions on retirement from professional football.
"The days when soccer professionals were considered as school drop-outs are gone, and we should therefore be thinking of how to make use of footballers in the public sector after their retirement in active football."

Vice President Mahama appealed to presidents of various football associations to vote for Mr Kwesi Nyantakyi in the forthcoming Confederation of African Football executive committee elections.

Mr. Sampong Kablan, FIFA Development Officer in-charge of the African sub-region said Ghana deserved the projects they had gained over the years on account of their tremendous contribution to World football.

He urged the GFA to make judicious and maximum use of the projects to enhance the development of the sport in order to justify their demand for more FIFA Goal Projects.

Mr. Kwesi Nyantakyi, President of the GFA, commended FIFA for the support over the years and promised to put the facilities to good use for the development of football talents in Ghana and the entire African continent.