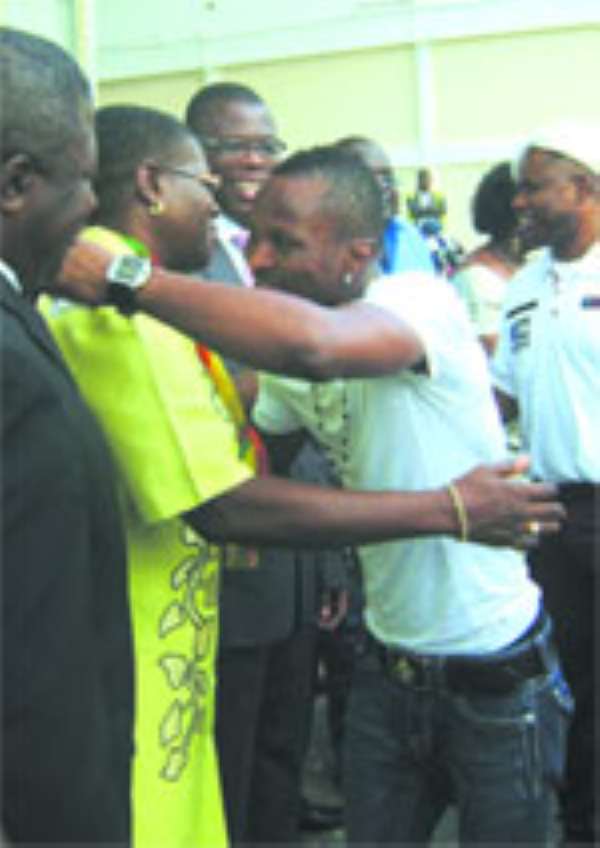 Akua Sena Dansua gives the Champ a welcome hug on his arrivial. Looking on is Mr. Kwetey
The International Boxing Federation (IBF) champion, Joseph Agbeko yesterday arrived home from the US, where he reclaimed his IBF title from Colombian undefeated boxer, Yonnhy Perez.
At the Kotoka Intenational Airport to welcome the champ were the Minister of Youth and Sports, Hon. Akua Sena Dansua, the Deputy Minister of Finance, Fifi Kwetey, Mr. Samir Captan, chairman of the Ghana Boxing Authority (GBA), Professor Azumah Nelson, GBA technical director, Dr. Lawrence Tetteh, International Evangelist, among other high profile dignitories.
After disembarking from the Delta Airlines, the champ, in the company of the dignitaries walked to the many supporters' groups, boxing enthusiasts and his fans, who had gathered to give him a befitting welcome.
From the Kotoka tarmac, where prayers were offered by Dr. Tetteh for the victory, with short speeches from the Sports Minister and the boxer himself, the IBF king was led in a police escort to the Castle, Osu, where he called on President Mills.
At the Castle Gardens, President Mills pointed out that Agbeko's victory is clear testament of the fact that with tenacity of purpose, dedication and the support from the country, one can achieve whatever targets he sets.
He praised the boxer for his brilliance and acting as a worthy ambassador, and pledged to reward him in due cause. "We will do all we can to restore the lost fortunes in the sport, the talents are there and we must nurture them," Prez Mills noted.
Agbeko, in an inspiring speech thanked President Mills for sending a delegation, prior to the fight, to offer him words of encouragement. "The delegation's words of encouragement pushed me to work harder," said the champ.
He presented the pair of gloves he wore against his Colombian opponent to President Mills as a gift.
The champ called on the President to do more for the sport, since it has the power to engage the youth as well as prevent social vices in the country.
Using himself as classical example, he said:"But for boxing, I would probably be in jail or engaged in one social vice or the other."
Mr. Captan expressed profound gratitude to the President for his role in ensuring the victory, but appealed to the National Sports Council and the Ministry of Youth and Sports to go the extra mile to support boxing, by way of providing infrastructure in the country.
In her response, the Sports Minister gave the GBA boss the assurance that her outfit had lined up programs to ensure that boxing receive the attention it deserves.
Also in attendance to present their World titles were Bukom Banku, Bukom Tsatsu, Albert Mensah and Joseph Tagoe among others.
From the Castle, the Fresh King was expected to call on the national chief Imam at his residence.