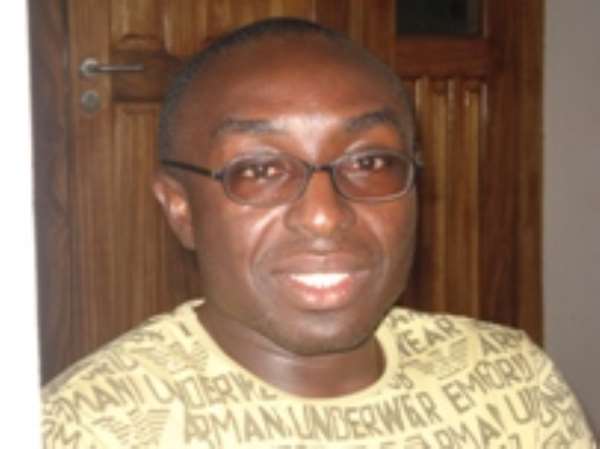 Coach Opeele Boateng

Coach Opeele Boateng a former coach of Kumasi King Faisal has reacted angrily to alleged comments made by former Black Stars striker, Augustine Arhinful calling the former player a disgrace to Ghana football.
According to Coach Opeele who was speaking on Asempa FM, Augustine Arhinful said on a television station in Accra that he (Opeele) knows nothing about the rudiments of football which is why he makes scathing remarks on every issue that comes up.
Coach Opeele who sounded very crossed said Arhinful should not even participate in the discussion on a new coach for the Black Stars as he is no where near the top ten strikers that this country has had. He added, that the name Opeele is a brand that should not be mentioned for the fun of it by former players who have nothing under their sleeves to boast of.
The University of Cape Coast graduate who touted is academic credentials also accused Arhinful of saying that his knowledge in football far outweighed that of even coaches who have won the European Champions league.
The self-acclaimed student of soccer warned that no one can stop him from making his opinion known on issues that could affect the senior national football team in Ghana.
Reacting to Opeele's comments, Augustine Arhinful denied ever saying that he was more intelligent than coaches who had won the Champions League.
He advised Opeele to critically examine his statements and issues before coming out to criticize. He pointed out that since everyone is fallible, it is necessary to be modest when discussing national issues and not act like the repository of all wisdom.
He said it is time for Ghanaian coaches to be given opportunities to show what they can offer with permanent contracts and not just caretaker positions. He questioned why Opeele did not take over the reigns of the senior coach at Kotoko when the position was vacant if he really is as good as he claims.
The former Black Stars marksman stressed that it was time Ghanaians change their mentality and allow a black man to manage the senior national soccer team.
A former Black Stars defender, Tony Baffoe also waded into the heated exchanges indicating that there was a need to debate the issue of a new national team coach but stressed that there was no need for the argument to descend into personal attacks.
Baffoe who agrees with Arhinful on the choice of local coaches added that what matters most is the need to appoint a coach who will better manage the players.
He was of the view that some former national football stars have excelled at coaching national teams contrary to views espoused by the Opeele and his cronies.
Tony Baffoe said certificates should not always be the yardstick for choosing a national team coach.
Story by Derick Romeo Adogla/Myjoyonline.com/Ghana