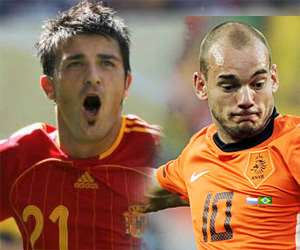 For both Spain and the Netherlands, the World Cup final represents a chance to bury the ghosts of the past and look forward to a glorious future.
However, for the loser, the pain of defeat may linger long after the dust has settled at Soccer City in Johannesburg.
Somewhat surprisingly, the two sides have never met at a World Cup and, in fact, have only clashed nine times in history, with each side claiming four wins and one draw.
They have met in one final before - the Olympic Final in 1920 when Spain won 3-1 - but in recent results Netherlands have come out on top, with Spain's last win back in 1983.
Netherlands have made it to their first World Cup final since back-to-back defeats in 1974 and 1978 and have the weight of history heavy on their shoulders.
The spectre of Johan Cruyff's Total Football has hung over the Dutch side for years and, now that Bert van Marwijk's men have a chance to surpass their achievements, suddenly comparisons are being made again.
Certainly, the side's style under van Marwijk has not been 'Total' but the functional and destructive talents of Mark van Bommel and Nigel De Jong knit well with the attacking prowess of Robin van Persie, Wesley Sneijder and Arjen Robben. As the only unbeaten side in the tournament, coming from behind to beat Brazil in the quarter-finals provided the Dutch with the confidence they need to re-write history in the final, but one feels they may still come up short.
The main reason for that is because they face arguably the best side in the world at the moment, European champions Spain, whose Golden Generation have made it past the quarter-finals for the first time in their history.
With years of disappointment at international level now behind them after their win in 2008, Spain have a bright future and play the kind of attacking football that guarantees them fans across the globe.
Maintaining control of the ball with expert technique, the likes of Xavi, Andres Iniesta and Xabi Alonso provide the ammunition for the star strikers of David Villa and Fernando Torres, with Villa in the form of his life after a summer move to Barcelona.
Spain have conceded just two goals in the tournament thus far, while Netherlands have netted 12 goals in their six matches - so it should be an intriguing contest.