Oil Revenue Not To Be Lodged In Consolidated Fund — Prez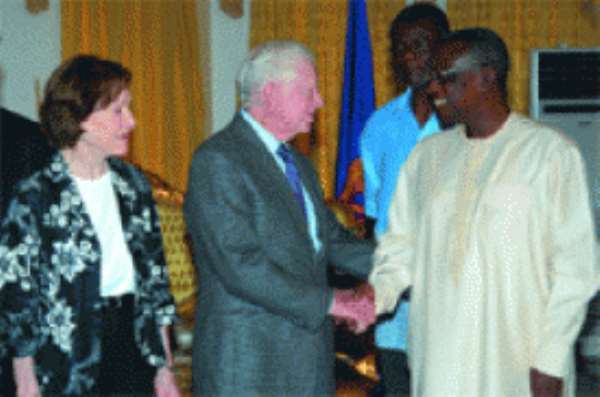 President Mills welcoming Mr Jimmy Carter (2nd right), a former President of the US and his wife, Roselyn to his office at the Castle. With them is the Chief of Staff, Mr John Henry Martey-Newman.
Revenue from the country's oil will not be lodged in the Consolidated Fund, President John Evans Atta Mills has disclosed.
Rather, an independent body would be set up to manage oil revenue in order to enhance the efficiency of its utilisation.
President Mills said this when a delegation led by former US President Jimmy Carter called on him at the Castle, Osu in Accra.
The delegation is in the country to attend the African Regional Conference on the Right of Access to Information currently going on in Accra. Organised by the Carter Centre and other African partners, the conference is to advance the right of access to information on the continent.
The President said taking a cue from the challenges that bedevilled other oil rich countries, his administration would demonstrate transparency and ensure accountability in oil deals.
He said the government was aware that any fight against corruption must begin with the leadership and expressed the hope that the various legislation being put in place by his administration would help strengthen the country's democratic credentials and help it to achieve its target.
"Corruption produces unpleasant results, to the disadvantage of those who put us in power. We should know that corruption is something that should be punished," he said.
President Mills commended the US for its role in ensuring free, transparent and fair polls in the last elections and said he was hopeful that the US would support other African countries in similar fashion.
"I know that the mention of the Carter Foundation will send shivers down the spines of those who intend to cheat in elections," he stressed.
Mr Carter said his foundation would ensure that democracy was rooted in Africa.
He commended Ghana for its democratic credentials, saying, "I don't know any other African country that has scored a high point as you."