Pantsil gets US$20,000 for stopping Ronaldo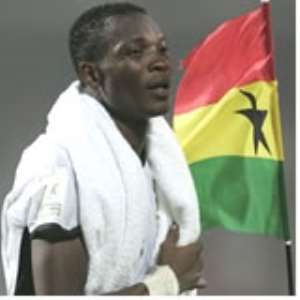 Fulham defender John Pantsil has revealed that coach Roy Hodgson gave him a cash gift of £10,000 for putting the brakes on reigning World Player of the Year Cristiano Ronaldo.
The Ghana international was instrumental in their recent 2-0 defeat of English Premier champions Manchester United as he managed to contain the rampaging Portuguese playmaker.
According to Pantsil he played strictly to the coach's instruction of man-marking Ronaldo out of the game which resulted in high-praise and the cash.
"I remember hearing our fans in the stands who were surprised at my refusal to join the attack shouting and urging me to go forward," Paintsil said.
"But I refused and it paid off in the end. Ronaldo couldn't score, we won the match and my coach gave me £10,000 for a good job done."
Speaking exclusively to 90 Minutes, Paintsil explained the instructions given to him by Hodgson before the match to give Cristiano Ronaldo no breathing space.
"The coach confided in me that he believed in my capabilities and so I should go into the game and prevent Ronaldo from causing any havoc if he's positioned on the left," the former Berekum Arsenals player said.
"The coach gave me specific instructions not to cross the centre line unless it was extremely necessary. If I had to, I would have to inform one of the midfielders to cover me," Paintsil revealed.
Fulham's impressive performance in the Premiership can partly be attributed to their right side of defence where the Ghanaian ace has made his own in recent weeks.
This wasn't the case in his earlier days in London when he was warming the bench of West Ham, if not playing for the reserves.
''I remember driving for long hours to train hard so I could catch the eye of the coach, only to be told I'd be playing for the reserves."
Credit: 90 Minutes Newspaper