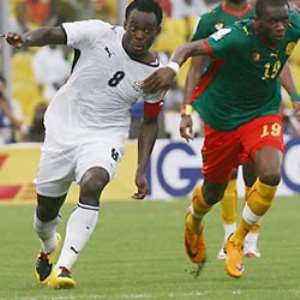 Michael Essien says the squad will be fired up for their first group game when the joint 2010 African Nations Cup and World Cup qualifiers begin this weekend.
The midfielder who makes a return to the national team since his last appearance in September 2008 ended up with an injury has told kickoffghana.com that he will not be afraid to get stuck in for Ghana.
Essien, has been enjoying the kind of run that leaves most players happy, with his return for club having been very key as Chelsea's hopes of landing three titles this season continues.
"It was a difficult and long road back from injury but I am very happy to be back and enjoying my football again," he said.
With club football out of the way, Ghanaians expect Essien to repeat his Chelsea heroics on the national stage, a challenge not lost on the midfielder.
The player says he eager to help Ghana reach another World Cup after aiding the Black Stars' campaign to the 2006 finals hosted by Germany.
"After a long period out, we played in the last World Cup and brought so much joy to this country so we the players want to do it all over again."
The quest to reach another World Cup finals starts on Sunday at the Baba Yara Stadium with Benin, the first opponent for the Black Stars.
Ghana's group also includes Sudan and Mali with the Malians been touted as the biggest threat to the Black Stars' chances of reaching South African for the World Cup. But Essien believes that all three opponents present unique challenges.
"Benin, Mali and Sudan will all be difficult games but we must make the most of our home advantage beginning on Sunday.
"I am expecting a difficult game because Benin have very good players. But even though I cannot predict the scoreline I am very sure about the fact that we will win."