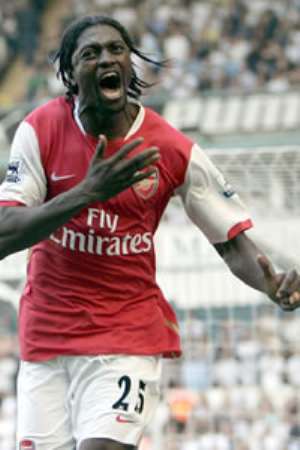 Arsenal striker Emmanuel Adebayor has been called into Togo's national squad for their forthcoming World Cup qualifier with Cameroon, despite being currently sidelined with a hamstring injury that he picked up whilst playing for the Gunners in their 0-0 draw with north London rivals Tottenham Hotspur in February.
The club have confirmed to Sky Sports News that the player will make the journey to Africa for the game, but is extremely unlikely to feature, having been pencilled in for a return to first-team action once the international break is finished.
Meanwhile, after Arsenal beat Newcastle United 3-1 at the weekend, manager Arsene Wenger has expressed sporting hopes that the Magpies manage to remain in the Premier League this season, as he admires the loyalty of the Geordie fans.
"I think that from what I have seen in the first half they will get out of it but the longer the situation lasts the more difficult it is," the Frenchman told the club's official website.
"I wish that Newcastle stay in the League because I like the people here and I like the consistency of support.
"But it will be very close because they have eight games left. They have the quality but they need some results. From what I have seen today they have enough quality to stay up."