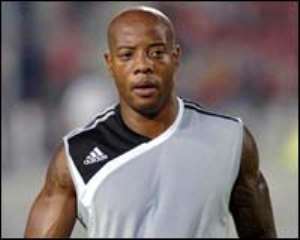 AGOGO IS FRUSTRATED IN EGYPT Black Stars striker Junior Agogo has revealed that the politics governing his Egyptian Premier League side Zamalek has hindered his performance at the club.
 
Agogo has had a nightmare start to his career with the White Knights and is eager to secure a move away from the club following a series of questionable happenings.
The 30-year-old told the BBC: "Zamalek is a big team and I have come to a team that I believe from history is huge.
"I wanted to come here and win things but I have discovered that it is not even about the football.
"The politics involved in the club is so hard.
"I went to the accountant and he says the contract you signed with the president who brought you is void.
"How can you say that? I have to look out for my future.
"At the end of the day I have to look out for my future.
"At the time it was really good and met some really good people but it has been some experience."
He added: "They fined me 200, 000 dollars but refused to put it in writing but I am still trying to keep a level head to go out and perform for Zamalek.
"My team-mates have been wonderful and the fans have been great with me.
"But I am a foreigner and been trying to do my best and there is so much I can do.
"The management side has been an absolute nightmare for me." 
For more Ghana football news visit www.ghanasoccernet.com