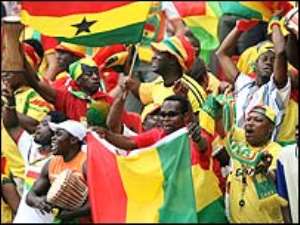 Fans are happy with the freeing of Alhaji Hearts Alhaji Briamah Suleman, aka Alhaji Hearts, has walked free from court after charges of money laundering were quashed by an Accra Circuit Court on Tuesday.
 
Charges of conspiracy, concealment of currency, and aiding and abetting money laundering against the Accra Hearts of Oak board member were also dismissed.
 
The state was also ordered to return the £59,870 seized in August last year from airhostess, Ewurasi Claribell, belonging to Alhaji Hearts and his friend Ahmed Tijani.
 
Claribell and Tijani were also cleared after their lawyer Bright Akwettey argued that his clients were hastily charged without an offence committed.
  The court appearance stemmed from an incident when airline security conducted a random search on the crew on board a Ghana International Airline flight which had arrived from London.
  During the search the cash was found in two bags belonging to an airhostess, Claribell and was bundled out of the aircraft and handed over Bureau of National Investigations (BNI).
  Astute lawyer Akwettey argued that Claribell would have committed an offence if she had not declared the cash to customs but she was not given the chance to or otherwise.
 
Presiding Judge Wilson agreed with the defendants freeing them, leaving no stain on their reputation.
 
It was suspected that there was a tip-off to stain Alhaji Hearts' reputation in the operation but the affable administrator says he has forgiven the perpetrator.
 
"I don't know if someone did this to destroy me. But if the person did it then today to that person my reputation is firmly establish," Alhaji told Ghanasoccernet.
 
"I have forgiven the person if there is anybody like that and now I can move on with my life."  
For more Ghana football news visit www.ghanasoccernet.com