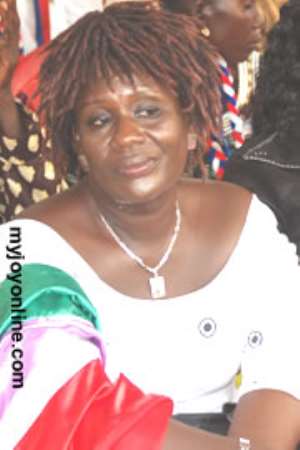 Madam Frances Ewurabena Asiam, who recently quit her Democratic Freedom Party to join the campaign trail of the New Patriotic Party flagbearer, Nana Akufo-Addo, has explained that her action was to help keep the National Democratic Congress in opposition.
She explained on Joy FM's Super Morning Show on Monday that she is unleashing an unflinching support to help Nana Akufo-Addo to win the elections, realising the contest was a straight fight between the NDC and the NPP.
"The way things were going I could see that it was a straight fight between the NDC and the NPP; and if I do not want the NDC to be in power, that is me personally, nobody can take it away from me, it is my democratic right and constitutional right, it is my human right, it is my right of expression and association not to want the NDC to come to power.
"So therefore the only alternative for me is the NPP," she told Kojo Oppong-Nkrumah, host of the programme.
Frances Asiam said she denounced her allegiance to the DFP weeks ago after coming to terms with the reality that her earlier judgement about the party making an impact on the political scene could not materialize.
She revealed that ever since she abandoned the NDC, where she was a National Women's Organizer, though was with the DFP, her conviction was with the NPP.
"Ever since I left Koforidua (where she was allegedly beaten by NDC hirelings), my sympathy has been with the NPP."
She said she has no regret for her action, which she said is drawing a lot of support for the NPP especially the floating voters. She however maintained that she is not an "opportunist".
Her movement from one party to another has earned her the nickname "e-zwich" but she was not perturbed about the name calling which she said does not scathe her credibility.
"I have done the honourable thing and I am satisfied with myself and I am so happy that I am campaigning for Nana Addo Dankwah Akufo-Addo," she intimated.
Ms Essiam said her flirt with the NPP has dealt a big blow to the NDC, who are bitter about her and are therefore attacking her unnecessarily.
She claimed she is a force to reckon with in politics, explaining that is why a number of NDC leaders have approached her to return to the party with some mouth-watering rewards but has turned them down.
Although she is yet to acquire an NPP membership card, she insisted she was not wooed by the NPP as party with money, but said she only enjoys some financial pat on her shoulders for her active involvement in the party by some unnamed individuals.
Story by Isaac Essel