Tettedzie Wins Taywood Bowl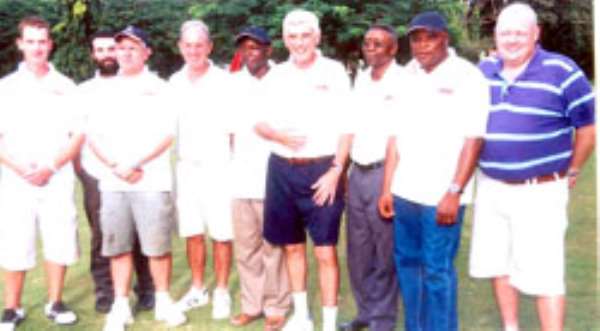 K. Tettedzie won the annual Taywood Bowl 2008 Championship, a one-day golf event organized by building and construction giants, Taysec Company Limited, at the Achimota Golf Course last weekend.
Tettedzie returned a boogey score of plus 2 to beat George Toall and Rene Kwame to second and third positions respectively. Both Toall and Kwame each returned a plus 1 each.
In 4th – 6th places were Charles Ofori, Dr Paul Owusu-Baah and R. Muklu all returning square respectively in the men's division.
Susy Abaloo-Kumassah picked the ultimate prize in the ladies section also with a boogey score of plus 2 but on count back from her runner-up Bea Vetcsh-Bempong with the same boogey score of plus 2.
In 3rd place with a plus 1 was J. Brookman-Amissah. She beat evergreen Mona Myers-Lamptey aka, Mona Captan who won on count back from Ama Morgan with the same boogey score of minus 1.
In his presentation speech, the chief executive officer of Taysec, Jeff Trisher, and ex-captain of the club, acknowledged the longstanding relationship between 61-year-old Taylor Woodrow and Achimota Golf Club, saying the event which has been running for more than 40years will be rechristened Taysec Bowl as from next year.
He pledged Taysec's continued support for Achimota Golf Club, citing the refurbishing and face-lift of the "all green" 18-hole project as landmark support to help develop and promote golf in the country. Mr Fisher who has just assumed the top post of CEO following the departure of the former, Mr Andy Holmes commended golfers for cooperating with Taysec in upholding golf's integrity as a sport.