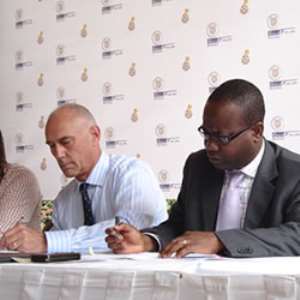 Headline sponsors of the Black Stars, Gold Fields Ghana Limited, reaffirms its commitment to the team following Saturday's qualification to the second round of the 2010 World Cup qualifiers.
Speaking at a press conference in Accra on Monday, Gold Fields Ghana Managing Director, Johan Botha also congratulated the team for qualifying to the second round stage.
Johan Botha praised the Black Stars for bouncing back from the disappointment of the loss in Libya to secure qualification.
He said: "Gold Fields is extremely proud of its association with the Black Stars and look forward to yet another World Cup appearance in South Africa in 2010."
Also present at the press conference was Black Stars head coach, Milovan Rajevac, his assistant Kwesi Appiah and GFA President Kwesi Nyantakyi.
Milovan assured Gold Fields and Ghanaians his aim is to reciprocate the support he has received from the majority of the people by leading the Black Stars to a second successive World Cup.
Gold Fields Ghana also used the opportunity to introduce the incoming Managing Director Peter Turner, who replaces Johan Botha later this year.
Johan retires to South Africa in December after six years in Ghana, the last two years as Managing Director.
FA President Kwesi Nyantakyi thanked Johan for his dedicated service to the Black Stars and Ghana and extended the GFA's welcome to the incoming MD.
Gold Fields which has mining operations in Tarkwa and Damang sponsors the Black Stars to the tune of $4.5m. The sponsorship expires in 2011.