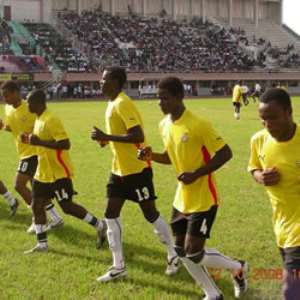 Two successive African Youth Championship qualification failures had rendered Ghana's Under-20 team the most unattractive side to be associated with.
Right after the team's sterling performances that earned Ghana, a silver medal at the World Youth Championship in 2001, the high-standards set by the various national sides was completing missing for the Black Satellites.
The team slumped to their lowest ebb with two consecutive African Youth Championship qualification failures over a six-year period.
There concern wasn't an issue about the quality of players within that age category over the last six years.
But certainly, something was not ticking after Ghana missed the chance to reach the last edition of the African Youth Championship via penalty kicks against Burkina Faso at home in Sunyani.
"We declared this team a special project because of the trend of failures that had befallen the side," FA President, Kwesi Nyantakyi said on Monday when the FA welcomed the team.
"The target was to remedy the situation and get the team back into contention for African and World glory.
"But the most important thing aside qualifying for Championships and winning cups was to set in place the system of a gradual transition of this generation of players into the Black Stars."
Ghana reached the finals of next year's African Youth Championship to be hosted by Rwanda on Sunday after beating the Gambian 3-1 on aggregate over a two-leg tie.
The task to reach Rwanda was set out way back with the decision to employ Black Stars assistant coach, Sellas Tetteh as substantive coach of the national Under-20 side.
And he together with his backroom staff ensured that Ghana returned to the Championship after guiding the Black Satellites to the important away win in Banjul on Sunday where they beat their host 1-0.
"Sellas had gained considerable experience from his works with the senior side. For us, bringing him to the Under-20 wasn't a demotion but a recognition of his qualities to do a good job.
"We congratulate him for that and know he can do more. He is not the only one to have left the senior side to the Under-20.
"Players like Andre Ayew, Samuel Inkoom and Agyemang Badu have all been part of the Black Stars at this young age. But we thought it would be better to use them for the Black Satellites too.
"And they have all taken in that decision well. This shows their determination and professionalism," Kwesi Nyantakyi said.