Premier League Ahoy - Tickets Run Out At Tema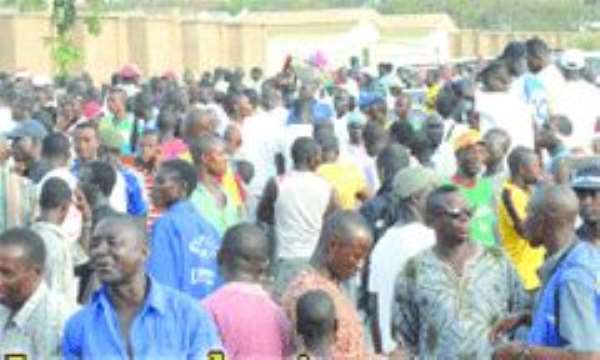 Real Sportive missed a financial windfall last Sunday when tickets for their Premier League clash with Hearts of Oak in Tema ran out.
With just 3,000 tickets printed for the match on the orders of the Professional League Board (PLB), hordes of fans who sought to watch a supposed revival by Hearts, as well as Sportive's big game temperament, were left in disappointment as gates to the stadium were closed five minutes after kickoff.

Isaac Banson, chairman of Sportive, said the league's organisers decided against a bigger number of tickets for the match at the stadium where fans could only stand to watch matches.
"We are disappointed, but there is nothing we can do about it," Mr Banson told the Graphic Sports.

Indeed, the entry points to the stadium were chaotic as impatient fans, numbering about 2000, engaged security personnel in a hectic confrontation for solution to their situation.

With the face value of the tickets raised from the normal GH¢2 to GH¢3 for the big occasion, the gates were expected to yield a gross of GH¢9000 (more than $9000 or ¢90m in the old currency) at the conservative calculation.

Despite the apparent loss in gate revenue, the figure, alongside what they earned in the well-attended clash with Kotoko at El-Wak, would by far be Sportive's biggest purse in the season, having been forced to relocate their home base to El-Wak in Accra when the synthetic field at their preferred Tema Stadium was under construction.

Under the inconvenience of standing for 90 minutes to watch a football match, the Tema Stadium is one of the least patronised league centres in recent times unless the game involves one of the country's biggest crowd pullers — defending league champions Hearts or league leaders Asante Kotoko.

With all the trouble it brought, yesterday's match disappointed only in terms of the failure by either side to score, rather than in terms of sheer quality.

While Hearts showed an appreciable return to physical fitness, Sportive entertained with a beautiful passing game that left Coach Ken Augustt satisfied that "we played very well against Hearts".

Hearts were, however, closer to the mark when striker Ekow Ghansah's 65th minute delicate strike bounced of the base of the post and returned into play as the stadium resonated with a spontaneous call for a goal.

But Sportive maintained calm nerves and forced some brilliant saves from goalkeeper Laud Quartey.