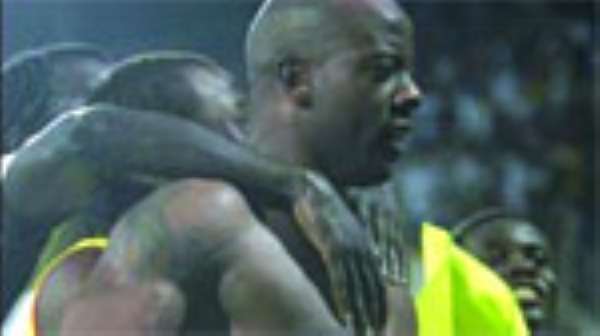 THERE WAS spontaneous jubilation by football fans in the Sekondi-Takoradi metropolis when Ghana Black Stars' prolific striker Manuel Junior Agogo scored Ghana's second goal against the Nigerian Super Eagles which won the day for the Stars in their quarter final duel in the ongoing African Cup of Nations tournament.
Minutes after the Algerian referee, Benouva Mohammed, whistled for the end of the game, thousands of soccer enthusiasts in the metropolis poured into the streets drumming and dancing, amidst singing "Agogo you are the most high", apparently in appreciation of the second and the winning goal by the Nottingham Forest striker.
The large crowd later embarked on a procession, which created traffic jam.
Some masquerading groups from Sekondi treated soccer fans to brass band music and marched from the area through Nkotompo to Takoradi, where they joined other football fanatics to celebrate the Stars' victory in a grand style.
Most drivers also tooted the horns of their vehicles while some motorcyclists were seen speeding on the road in celebration of the victory.
The celebration was at its peak at the Golden Jubilee grounds in Takoradi where a giant screen had been mounted to telecast the matches live.
Fans gathered at the jubilee grounds and danced to live band music provided by the Mag 2 Band.
They sang praises and gave thanks to God for making the expectations of Ghanaians come to pass.
Few of the fans who spoke to DAILY GUIDE SPORTS bemoaned the behaviour of the Algerian referee, who they alleged had an agenda of making sure the Black Stars did not qualify for the semi-final stage of the competition.
According to them, there was no where in the world that a referee could treat a host nation as "cruel" as referee Mohammed did, in any football tournament.
One of the fans, Jonathan Ackon told DAILY GUIDE SPORTS that host nations of football tournaments had certain privileges and even though John Mensah's foul on Nigeria's Odenwingie deserved a red card, the referee could have used his discretion to show him the yellow card instead.
"I know God is a Ghanaian and not a Nigerian and that what is written is written so even if we were playing with four players against the Nigerians' eleven, we could have still beaten them!" he exclaimed.
Two ladies at the jubilee grounds who pleaded anonymity remarked that after beating the Super Eagles of Nigeria, the Black Stars had brightened their chances of annexing the trophy for the fifth time.
The ladies, who had the inscription "The Eagle Has Fallen" on their dresses, appealed to President John Agyekum Kufuor to declare next Monday as a holiday since the celebrations after winning the trophy come Sunday February 10, 2008 would continue till the following day.