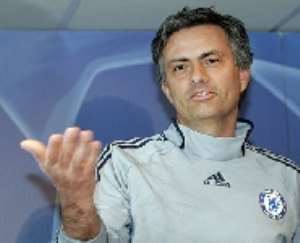 Chelsea manager Jose Mourinho, whose future at Stamford Bridge is the subject of daily speculation has demonstrated his commitment to the club by traveling to Ghana next week on a charity project.
Mourinho was happy to lead the Chelsea delegation even though his family and pet dog Leya are already in Portugal on their summer break.
The Chelsea manager will be raising awareness for sports charity Right to Play, which his club supports, as well as staging coaching clinics for young footballers during a five-day stay. He is likely to be overshadowed by Michael Essien who enjoys iconic status in his home country and is mobbed wherever he goes.
Mourinho's desire to make the arduous trip on his holiday strongly suggests he will be starting next season at Chelsea.
Meanwhile, the club's fruitless search for a new stadium along with Roman Abramovich's purchase of a Wembley box, sparked speculation that the national stadium is a target for the Russian. But the club played down the rumour, pointing out that the location is too far from Chelsea and too big for their needs.